The pre-pandemic world was when we shuffled between the digital and real world. However, the pandemic has forced tech-facilitated digital existence upon us. Businesses too didn't escape this transition. More than 50 per cent of small businesses say that technology is driving their customer interactions. 1 in 4 small business owners has accelerated their investment in technology since the pandemic.
Businesses are also looking for innovative ways to network with like-minded business owners and educate customers digitally. Both consumers and event organisers have shown a preference for virtual events, with over 1 million virtual events organised in 2020. Aiding these efforts are the innovative digital branding exercises that businesses are coming up with. Digital marketing spends among small businesses is seeing a jump.
In this article, I will review business trends in technology, networking, and marketing for 2021.
Technology Trends
You are a small business owner. You may not really be aware of the advancements unfurling in the tech industry. However, this does not mean that your business should stay behind. By embracing changing trends, you can surely leverage technology to grow your business. They will also improve the efficiency of your day-to-day processes.
Changing Trends in Business: Expected technological trends for 2021
1. Artificial intelligence (AI) and robotics will see an increase in demand
Throughout 2020, AI and Machine learning (ML) were hot topics. Businesses will continue incorporating them into their processes in 2021 too. Application is diverse, ranging from personalised customer experiences to voice assistants.
Meredith Schmidt, executive VP and GM of small businesses and essentials at Salesforce says, "AI will help small businesses offer more personalized experiences to their customers by maximizing their time and automating manual tasks."
A majority of small businesses often cite the challenge of insufficient time. Using AI solutions can help them be more efficient.
Success story:
Company Nurse
, a US-based company offers an array of facilities such as:
Nurse triage services,

COVID-19 screening, and

Workplace injury reporting for employers.
The company is leveraging AI on several fronts, right from classifying the data of private workers, data analytics, and sales lead generation to identify zero-day security vulnerabilities and speech-to-text transcriptions.
Since investing in AI, Company Nurse has
observed multiple benefits
including:
Better work-life balance for employees,

Enhanced security, and

Improved service quality to its clients.
Another example here is that of Café X, where the owners have installed a robot coffee maker. Not only have they been more productive but they can serve coffee at almost half of the regular prices.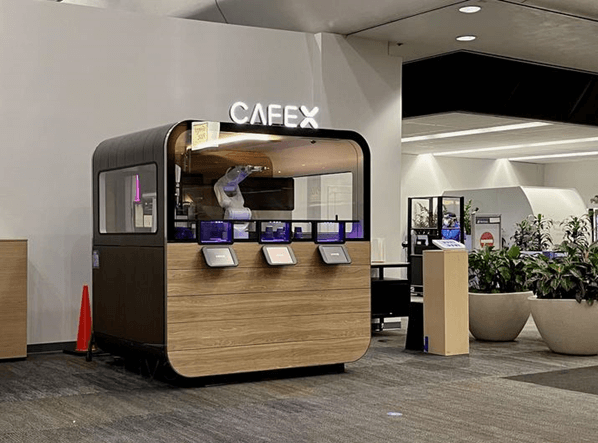 Image credit: Café X
2. Comprehensive and improved HR collaborative tools
2020 saw an unprecedented surge in the need for comprehensive human resource tools. These tools help business owners track their employees' performance and manage their requirements. Remote working is not going away anytime soon. That is why experts believe this trend to continue in 2021 and beyond.
"The shift to remote work has changed businesses in terms of productivity, engagement, culture, two-way communication and employee development, and has highlighted the need for effective technology to help navigate these challenges," says Rhiannon Staples, Chief Marketing Officer at Hibob.
3. Unified software will finally see a breakthrough
Do you use different software to:
Connect with your teams?

Send emails?

Manage leads and customers?

Plan projects? and

Store data?
Of course. The modern workplace has a solution for every problem. There's Salesforce for customer management, Gmail and Outlook for emails, Slack for chats, and Drive for storage. But how do you ensure that every platform is connected with the other? Especially when even your IT team is working remotely?
2021, it seems, will finally see a breakthrough. Integrated platforms will become prevalent, allowing software to connect seamlessly with each other.
4. Cybersecurity will have more focus
Cyber-attacks are quite prevalent today. In fact, small and medium businesses are particularly more vulnerable to data breaches. Accenture's Cost of Cybercrime Study shows that 43% of attacks target small businesses. Out of these, only 14% are equipped to defend themselves. According to embroker, by 2025, cybercrime will cost companies an estimated $10.5 trillion annually.
2021 will see businesses protecting their digital assets and confidential customer data with robust cybersecurity measures. In fact, the global spending on cybersecurity measures is predicted to exceed $1 trillion in the cumulative five-year period from 2017 to 2021.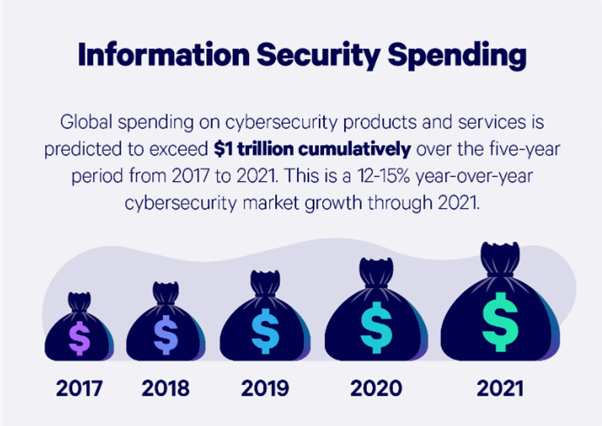 Image credits: Embroker
Networking Trends
COVID-19 crisis was the trigger, but the networking and events industry was already on the brink of transformation.
Changing Trends in Business: Expected networking trends for 2021
1. Hybrid IS the future
2020 was the year of virtual events. However, for those expecting virtual events to take the front seat – hybrid events will be the showstoppers. The final quarter of 2020 saw a marked rise in the number of hybrid events. Experts predict that their adoption will only increase in the near future.
Interestingly, the future of hybrid events is quite enthralling. Participants can expect integrated experiences combining the irreplaceable in-person interactions with the reach and insights of the virtual.
Success story: Empower 21 announced a hybrid event on February 22nd and 23rd, 2021. It was one of the first hybrid events and it had everyone's undivided attention. Empower 21 allowed virtual and physical attendees to register exactly the same way. From workshops to keynotes and luncheons, enhanced integration allowed virtual attendees to interact seamlessly with their in-person counterparts.
2. Growing demand for strong online communities
With eCommerce expanding, buyers are looking for places to share information about brands, products, and services. Therefore, there is a huge potential for online B2B and B2C communities. This means more virtual exhibitions, webinars, digital product launches, and tradeshows. Removing the physical element of attending bolsters accessibility and encourages more participation.
Young woman having a virtual meeting