Do you wish to start a home-based bakery business? Then, you're making the right choice.
The home baking business market has seen a growth of 157% in just one year.
So, it only makes sense to want a piece of the pie.
However, turning your home bakery dream into a successful business is difficult. It usually requires careful planning, investment, and time.
With that said, here you will find top tips on how to start a bakery business from home. Read on to learn more.
How to Start a Bakery Business from Home?
Register as Self Employed
Before starting a home bakery, register with HMRC because you are running the business yourself. This way, the HMRC will know that you will pay tax via the Self-Assessment system.
Register as self-employed, even if baking is your past-time activity, side hustle, or you have another job. Keep in mind, every sole trader or self-employed individual must report their earnings, income tax and donate toward National Insurance.
Visit GOV.UK to register and confirm your account as well as specifics of your pastry shop London. Failure to do that, you might get fined.
Follow legal requirements in the UK
The main regulatory issue the best bakery in UK has to put up with is food hygiene and safety.
Besides the usual legal and accounting requirement of opening a bakery business, you must meet your local authority's Environmental Health requirements for a bakery business.
Don't forget the food hygiene regulations and training, allergen management, and health and safety training.
You might also have to look at hazard analysis and critical control points (HACCP) it's a requirement for every food business. Having a HACCP means that your food is safe from chemical, physical and biological safety hazards.
Lastly, don't overlook the rules and regulations set by the Food Standards Agency. The agency has established clear guidelines about ingredient safety, labelling, and health claims.
Register Your Business
Next, you must register with your local authority's environmental health service. Do this at least 28 days before opening or after you start the bakery.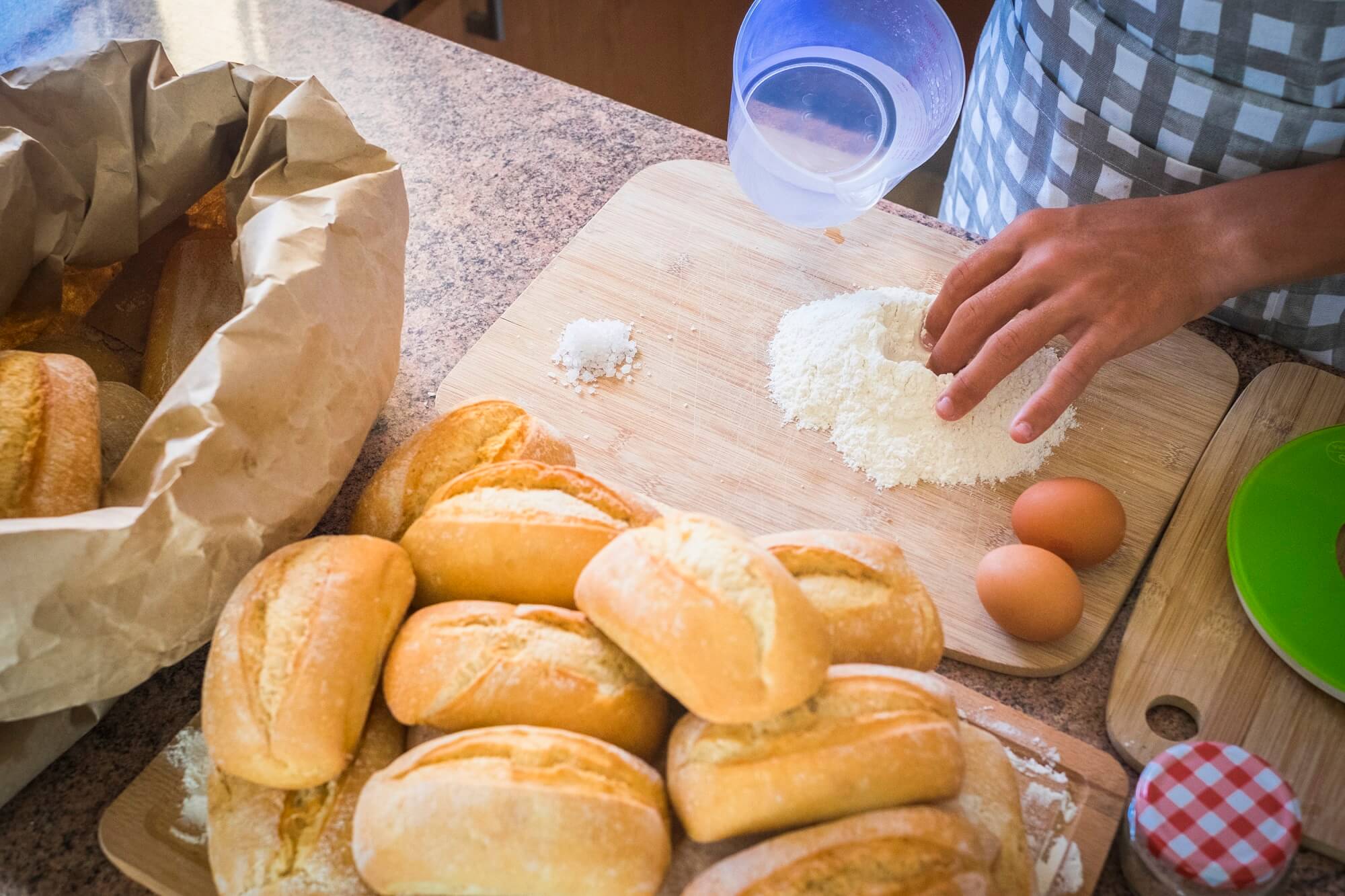 Bakery production with old handmade system
What's even better, bakery business registration is free, and it can't be declined. The registration process takes a few minutes.
The food law requires individuals supplying food to register, whether they're selling the food or giving it out for free. You can easily register your bakery business via the government's food business registration website.
The local environmental health officers will always examine your food preparation area. So it's wise to always keep your premises clean and in good condition.
Follow good hygiene practices, such as pest control and protecting food from contamination. But remember, your fresh bakery London will not get measured by the same code as that of larger restaurants or hotels.
Get Insurance for Your Home Baking Business
Like any other business, insurance is important. A bakery requires both public and product liability insurance. Insurance companies usually sell these two together.
 

They protect business owners in case they get sued for food-related damage or illness. Or if they accidentally damage the client's property when fulfilling an order.
Additionally, home bakery business owners should get tools and stock insurance. If they have employed workers, they should get employers' liability insurance.
Get the Landlord's or Mortgage Lender Permission
If you wish to start a baking business at a rented property, ensure you have the permission of the property manager or landlord.
According to law, tenants may work from rental properties, as long as the property stays a residence above all. Also, the landlord has to allow the property to be used for the business.
However, the property manager can't delay or unreasonably reserve their permission. But if the business operations might cause excessive wear or tear to the property or nuisance to neighbours, the landlord might withhold their permission.
If you are a homeowner, get permission from your mortgage lender first before proceeding.
Standing Out from The Crowd
If you're venturing into the baking industry, remember that you'll be competing with well-established businesses. So, if you want to succeed at it, you must make your business unique. Offer something different from your competitors.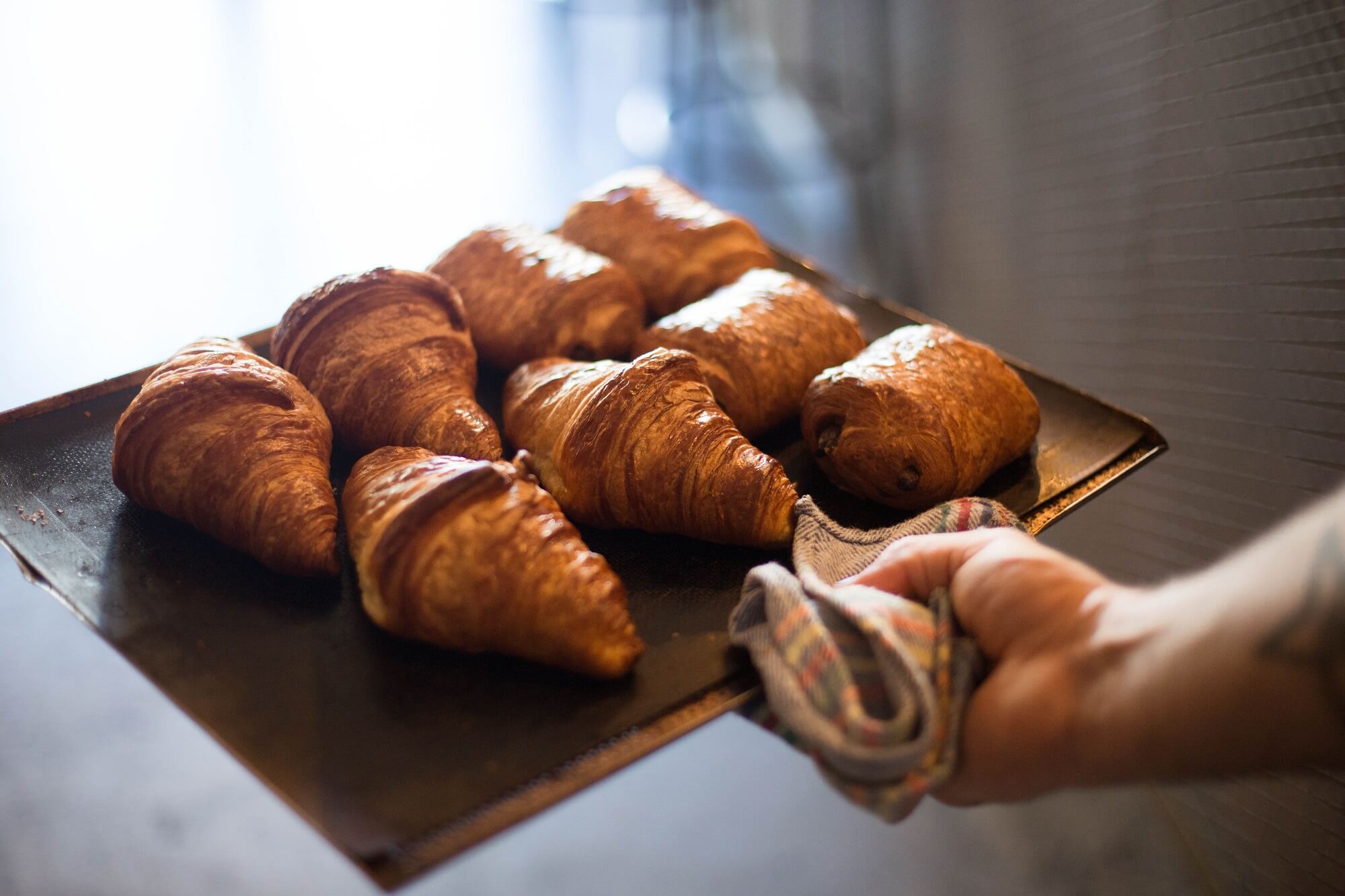 French baker in bakery or cafe.
You can specialize in making gluten-free or vegan cupcakes or focus on wedding cakes. Alternatively, you can use only locally sourced ingredients in your products. Whatever you do, make sure you stand out from your competitors.
Build a strong relationship in your locality by informing your community about your bakery business. During community local events, open a stall and offer people free samples of your product. You can also pass out leaflets and flyers to promote your small business.
Have an Online Presence
In today's world, people live online. They receive news, bank, and even shop online. So, it makes sense for businesses to have an online presence because that's where customers are.
Having an online presence will allow you to get the word out to a larger crowd, so prospects can find you and end up buying your products.
Build a simple and informative website, which contains details of your location, your offerings, and how to contact you. See what your competitors are doing and up the game. Use quality photos and have video testimonies so you can bring in more customers.
Apart from that, open a social media account to advertise your bakery business, whether it's Facebook, Twitter, or Instagram. Take advantage of targeted paid social media to boost the views of your ads.
Alternatively, you can start a YouTube channel and create tutorials and baking tips.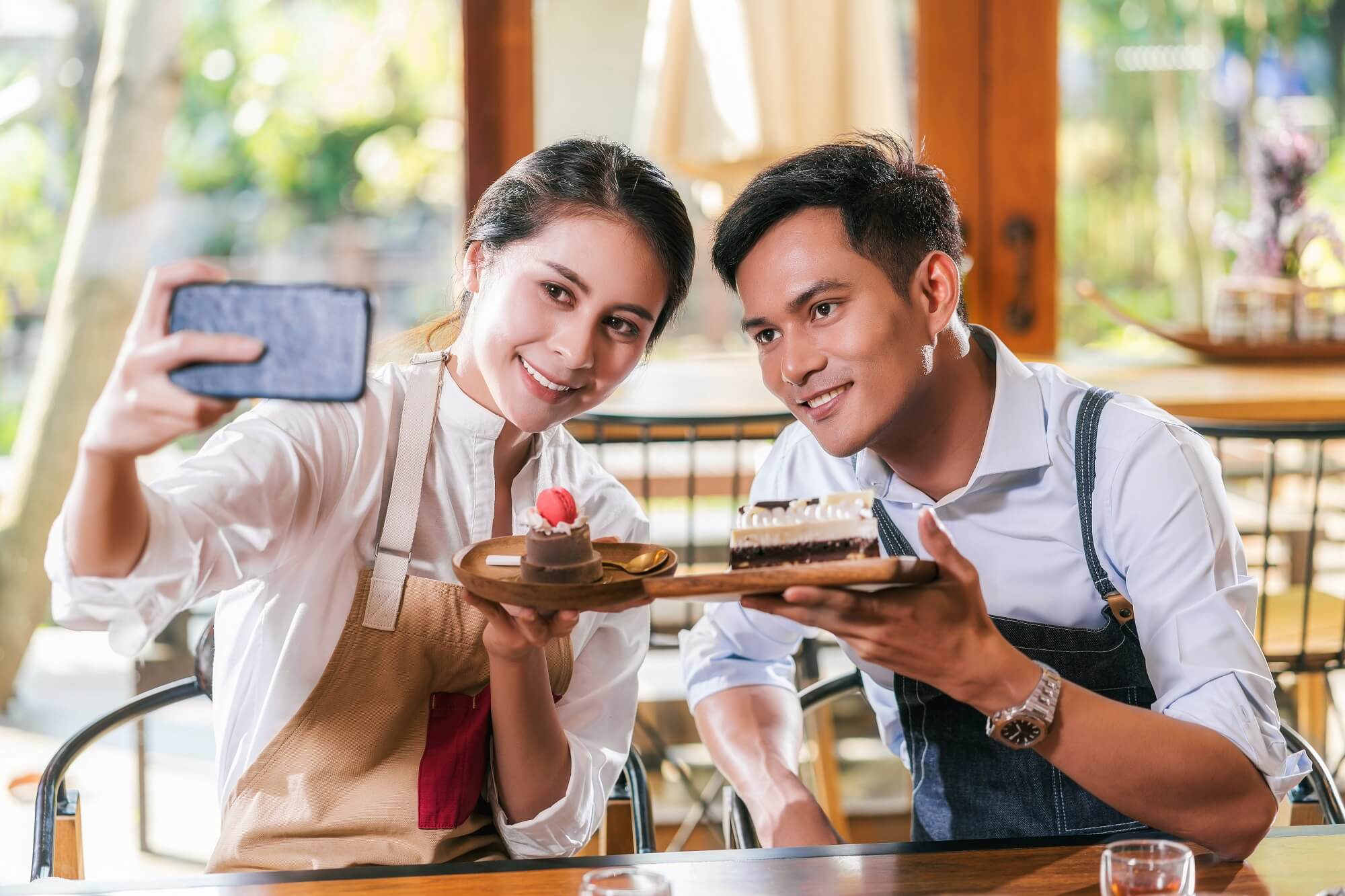 small business owner marketing their bakery products
Or write a cookbook and promote it on Instagram. As a result, you'll establish yourself as a baking authority while raking thousands of dollars in passive income.
Monitor Your Incomes and Expenses
Being self-employed means you're responsible for tracking income and expenses for business management and tax purposes.
Therefore, ensure you keep all your financial documents, particularly receipts, since HMRC might require them to verify your business expenditure when you're filing taxes.
However, tracking income and expenses for a bakery business is no simple task, especially if you don't have the right tools. Thankfully, there is a good deal of accounting software in the market that can help keep track of your business finances.
Market Your Business
People will only know about the wonderful products you bake at home when you adopt various marketing strategies.
You can develop content for your website and use SEO to rank organically on google. Alternatively, you can pay for google ads, YouTube ads, and Facebook ads to reach a wider audience within your delivery zones.
Email marketing is still a very effective marketing technique for business. Ask your customers to provide you with their email and include a page on your website where people can sign up for your newsletter. Adopt various marketing strategies and see your revenue grow exponentially.
Put up flyers in wedding dress shops or wedding planning agencies, or local wedding venues to get more people interested in your business.
How Much Does It Cost to Start a Bakery in the UK?
We can't say for sure how much money you might require to establish your bakery business. It all depends on how ambitious your plans are and other factors, such as size and location. Keep in mind, the startup costs of a brick and motor bakery shop will vary from a home-based bakery.
Besides the venue and type of baking business, there are other costs you will incur once the business is up and running. These include:
Location and Space
Location and space are perhaps two of the key factors that determine the success of the business. The venue can seriously influence the cost of launching your bakery business.
If it's a brick-and-mortar store, it might cost you a lot of money when you set it up in a place with lots of traffic. Let's not forget the leasing cost that can run from £400 to £1,500. For a home-based bakery, you might have to invest in renovations to create enough space to support your baking activities.
Licenses and Legalities
It's already clear you can't start a food business in the UK without a license. Those opening a bakery in a bring a mortar bakery might even have to apply a change of use class if the store was previously used for something else. The cost usually ranges between £500 to £1000.
Inventory
Bakery owners must manage their inventory if they want to maintain healthy business finances. Although they can manage their inventory in several ways, the best way is via online inventory management software. Investing in this software is the best way to track and edit customer orders, ingredients inventory, and much more.
Equipment
In a bakery, the magic happens in the kitchen. Therefore, business owners can't really afford to economize on this part. The amount of money you'll spend on equipment depends on the scale of your business and the different food products you'll produce in a day.
Bakery essentials include oven, mixer, fridge, worktable, and industrial baking equipment. The cost can reach £3000 or even higher.
Final Thoughts
If you're looking for a small business that you can successfully run on a lean budget right from home, a bakery will suit you better.
The best thing about a bakery business is that it allows you to express your creativeness through your work. Also, there's a never-ending market for deliciously baked cupcakes and other wheat-baked snacks.
You can sell your product locally or to a large market online, and you don't have to invest that much to get it up and running.
All you need is to register your business and purchase the essential baking equipment, supplies, and ingredients. The only catch is must you must prepare to handle more than half of the bakery roles.