There has been a significant improvement in the modern radiator since its emergence. They are now much easier to use, more efficient, and sleeker. The traditional radiator is somewhat of an eyesore, but the modern one comes with a contemporary design and décor that adds to the aesthetic of any home.

 
These radiators do a great job of keeping the home warm, especially when you pick the right one. There are many wall-mounted electric radiators on the market today, and we will be taking a closer look at one of the best electric panel heaters on the market- 

the

Devola Designer WiFi Compatible Glass Panel Heater Electric Radiator.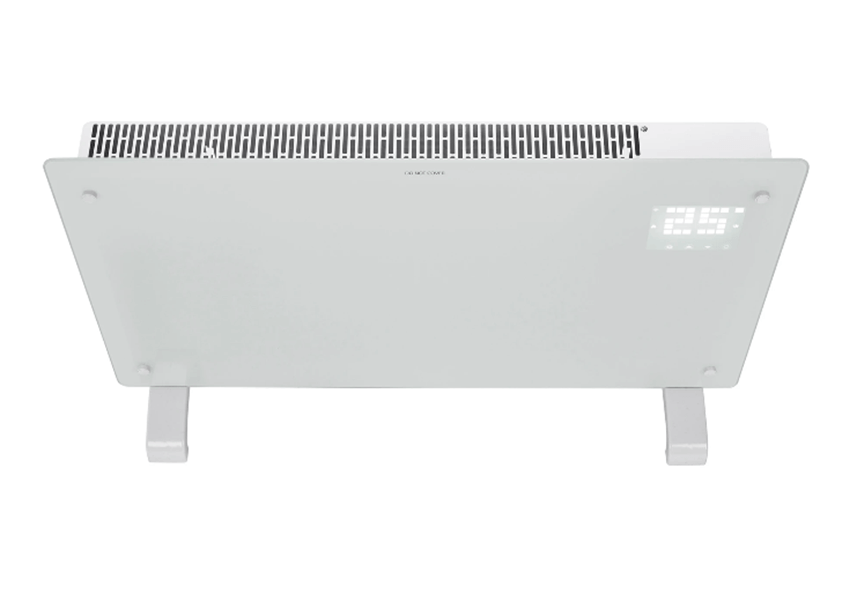 Devola Designer Glass Panel Heater Specifications:
Smart Home Compatible with: Tuya, Amazon Alexa, and Google Assistant
IP Rating: IP24
Material: Glass
LOT-20 Compliant: Yes
Anti-Frost: Yes
Power Consumption: 2 kW
Mounting: Wall
Minimum Voltage: 230 v
Timer: Yes
Thermostat: Yes
Type of Heater: Panel Heater
Dimension: 4.7cm H x 7.8cm W x 8cm D
Weight: 8.45kg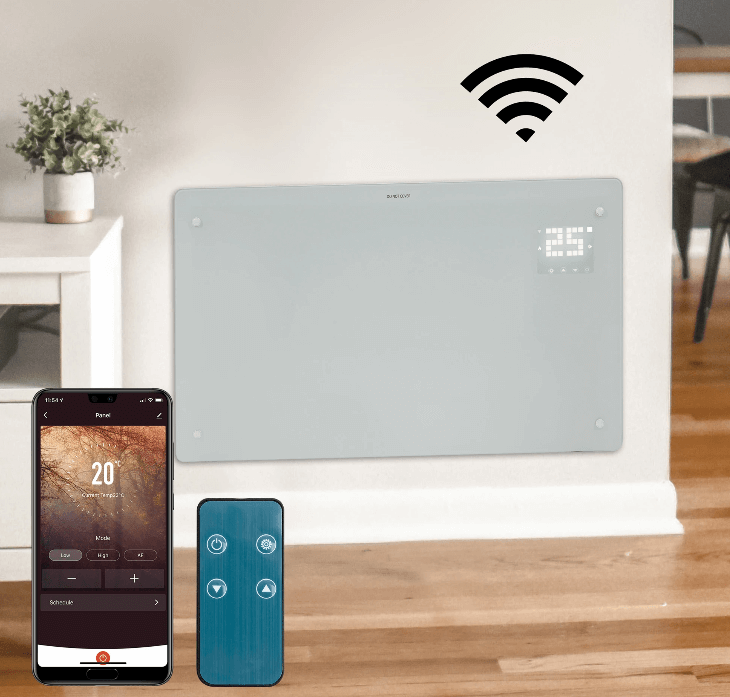 Pros:
Full WiFi connectivity through Tuya smart app

Double overheat protection

 

Open window detection

Touch control LED display with 24/7 timer

Very easy to set up

Ideal for use in the bathroom

 

Reduces energy costs

Different function modes for different conditions

An impressive 24-month warranty

Made with high-quality and durable material

 

Designed to serve you for a long time
Cons:
It takes a long time for the heat to circulate the room

Not the most intuitive control

Disconnects from WiFi automatically
Devola Designer 2kW LOT 20 Review
1. Design
The Devola Designer is one of the best electric panel heaters on the market. This unit has a maximum output of 2000 watts and it provides rapid heat. This heater does not use a fan to blow heat. Rather, it uses a convection strategy of heating cold air. There are vents at the top and bottom of this heater. The vent at the bottom absorbs cold air and emits warm air from the top vent.

 
The front panel also provides some radiative heat, as it does get warm. Thanks to the versatile design of this unit, you can mount it on the wall or conservatory. It comes with wall mounting brackets that make the installation easy. However, if you want to install it on the wall, you should outsource the job to a professional electrician only.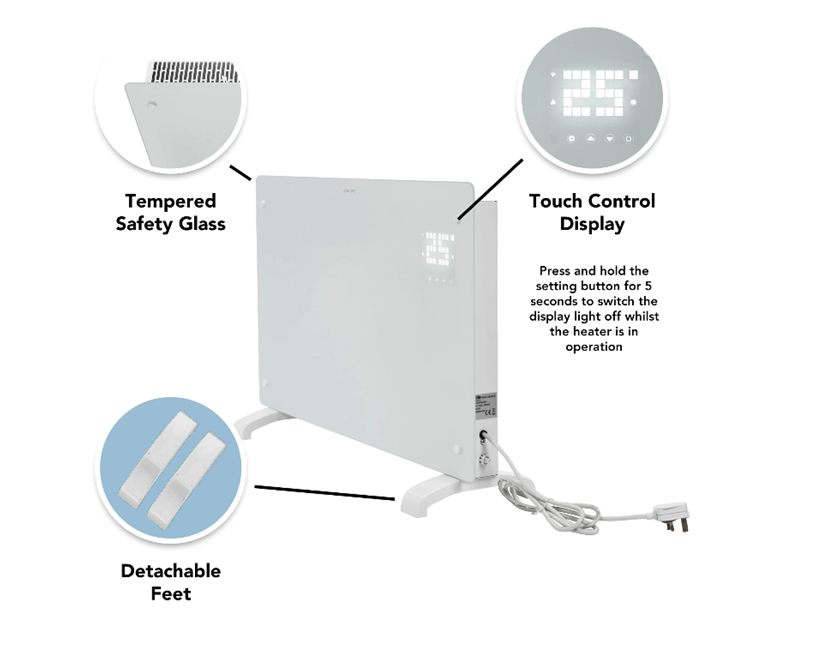 The housing of this unit is covered by a black glass fascia, which is made of black anodized aluminium metal. The design of the heater's front is like a flat-screen TV, and the glass front has rubber feet. The rubber feet are there to enable you to rest the glass in front of the heater safely on the floor.

 
This unit has a touch-sensitive display that measures 4 by 4 inches at the top right corner of the panel. It has seven backlit icons and large pixel numbering. The icons represent the function of the electric radiator, including Eco Mode, Comfort, and Anti-Frost mode.

 
2. Function Modes
As we said earlier, this unit has different function modes, including Anti-frost, Eco, and Comfort Mode. The Anti-frost mode helps to prevent frosting by providing a slow leak of heat. If you enable this function, it would automatically start when the temperature of the room is below 5°C and turn off when the temperature of the room surges over 5°C.

 
You cannot adjust the output of this heater manually. This means it always runs at 2000 watts. However, when you turn on the Eco mode, the output will reduce by 50 per cent, bringing it down to 1000 watts. The maximum thermostatic setting you can set for this unit is 50°C, and you cannot turn off the display.

 
3. WiFi App Control
One of the most outstanding features of the Devola Electric Glass Panel Heater is its WiFi app control. Only a few electric panel heaters come with this feature.  You can control the heating of your room from your smartphone. This allows you to use your phone to create your desired room heating zones.

 
Furthermore, this unit is fully compatible with smart homes. All you have to do is to download the Tuya app and connect your device. The device is also compatible with Google Assistant and Amazon Alexa. This gives you more flexibility over your heater, as you no longer have to look for the remote when you want to change the mode, adjust the temperature, or turn the device off.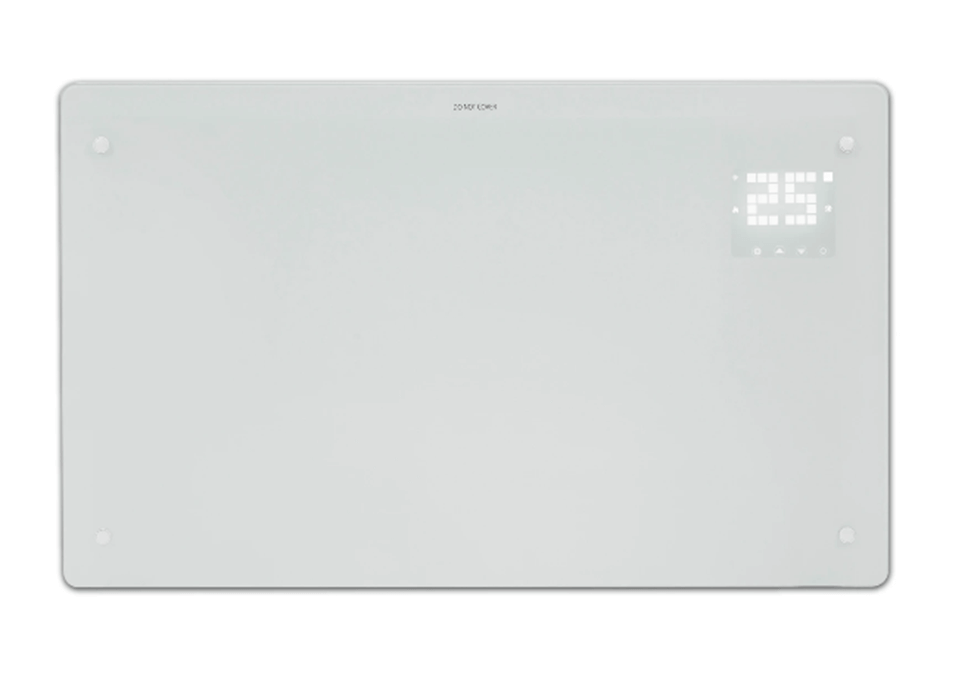 4. Energy Efficiency
The Devola WiFi-Enabled Electric Glass Panel is designed to reduce energy costs. This unit comes with an integral precision thermostat that is accurate to within half a degree. It switches off and on automatically to help maintain the temperature you set, saving you some costs in heating bills. It ensures the room is always at the specified temperature, helping to prevent a massive ramp in electricity bills. You can use this device for room sizes up to 22 square meters.

 
5. Accessories
This heater also comes with almost everything you need to install and start using it. It comes with two support feet with dimensions of 24 x 5 x 5 cm, and they both weigh 72g. The package also includes thick metal brackets. It comes with an 85 x 45 x 5 mm IR remote that weighs 13g. The remote has only four bounce buttons – a power button, mode button, and temperature button (lowering and increasing).

 
It comes with all the screws you need to set up the freestanding style. If you want to mount it on the wall, you will need additional tools such as a drill, tape measure, and spirit level.
6. Safe to Use in the Bathroom
This electric radiator features a splash-proof design that makes it safe for use in the bathroom. The electric radiator is rated IP24, and it does an impressive job of keeping water out. It features solid and durable construction that can handle water splashes in the bathroom every day.

 
7. Warranty and Compliance
For added peace of mind, this unit comes with a 2-year guarantee. The 24-month warranty is there to give you confidence when buying this product. The device also complies with LOT 20 of the EU "Eco Design" Directive.

 
The Devola Wi-Fi Enabled Electric Glass Panel comes with great features such as Wi-Fi connectivity, low power consumption, advanced safety features, works with Amazon Alexa, Google Assistant, Tuya Smart App and more. For this reason, I would give it a 4.5 out of 5 stars. You can see that more than 450 reviewers would give it a similar rating.
Conclusion
The Devola Designer WiFi Compatible Glass Panel Heater gets the job done when it comes to keeping your house warm. It is undoubtedly one of the best electric panel heaters, and it comes with many great features that separate it from other products on the market, such as its WiFi connectivity. If you are looking for the best electric radiators, this is one of the best options to consider.