Over the past couple of years, Cinematic FPV (first-person view) drones have been an evolving trend in the drone industry. There are many FPV drones on the market today, but not all of them are made equal. DJI, one of the largest consumer drone manufacturers in the world, is now making waves with its first FPV drone.

 
The DJI FPV drone is just called the FPV, and it is proving to be one of the best FPV drones in the industry. DJI manufactured this drone for both beginners and professionals. The drone is fast, reliable, and very easy to use. In this article, we will be providing you with an in-depth review of the DJI FPV drone and everything you need to know about it.

 
The DJI FPV drone comes with impressive features such as the 4K/60FPS video, immersive flight experience, different control modes, and advanced safety features. For these reasons, I would give it 4.3 out of 5 stars. Over 450 users also gave it a similar rating.
Specifications
Video Capture: 4K/60 fps
Photography: 1/2.3 Inches CMOS, 12MP, JPEG
Control Type: Remote control
Rechargeable Battery: Yes
Weight: 795 grams
Colour: Black
Flying Mode: Norma, Sport, and Manual
Dimensions: 10 x 12.3 5 inches
Max Flight Time: 20 minutes
Maximum Speed: 87.24 mph
Wind Resistance: Level 6
DJI FPV Goggles: Yes
DJI Motion Controller: Yes
Max Transmission Distance: OcuSync 3.0, 6.2 mi.
Pros
Incredible speed

Superior control

Advanced safety features

Steers like a dragonfly

 

Fun and exciting to fly

Provides immersive experience
Cons
On the higher end of the price spectrum

Requires balls of steel

Expensive to maintain and repair
DJI FPV Drone Review
DJI dedicated its first first-person view drone to one thing – high-speed and acrobatic fun flying while providing the operator with a first-person view. The FPV drone is not the best option for filmmaking, as you need to be stable to make a steady shot. This design makes this drone ideal for shots flying straight backwards and forward.

 
With this drone, you can take beautiful, dynamic, and amazing shots in different lighting conditions. One of the most amazing features of this unit is that you can use it to shot 4k 60p videos. The drone also provides amazing imagery.

 
Design
The majority of the components of this drone are made with advanced plastics. DJI also designed this unit to accept customer-replaceable parts to a certain degree such as top shell, landing gear, and camera gimbal. The FPV drone UK is a bit heavier, as it weighs 795 grams.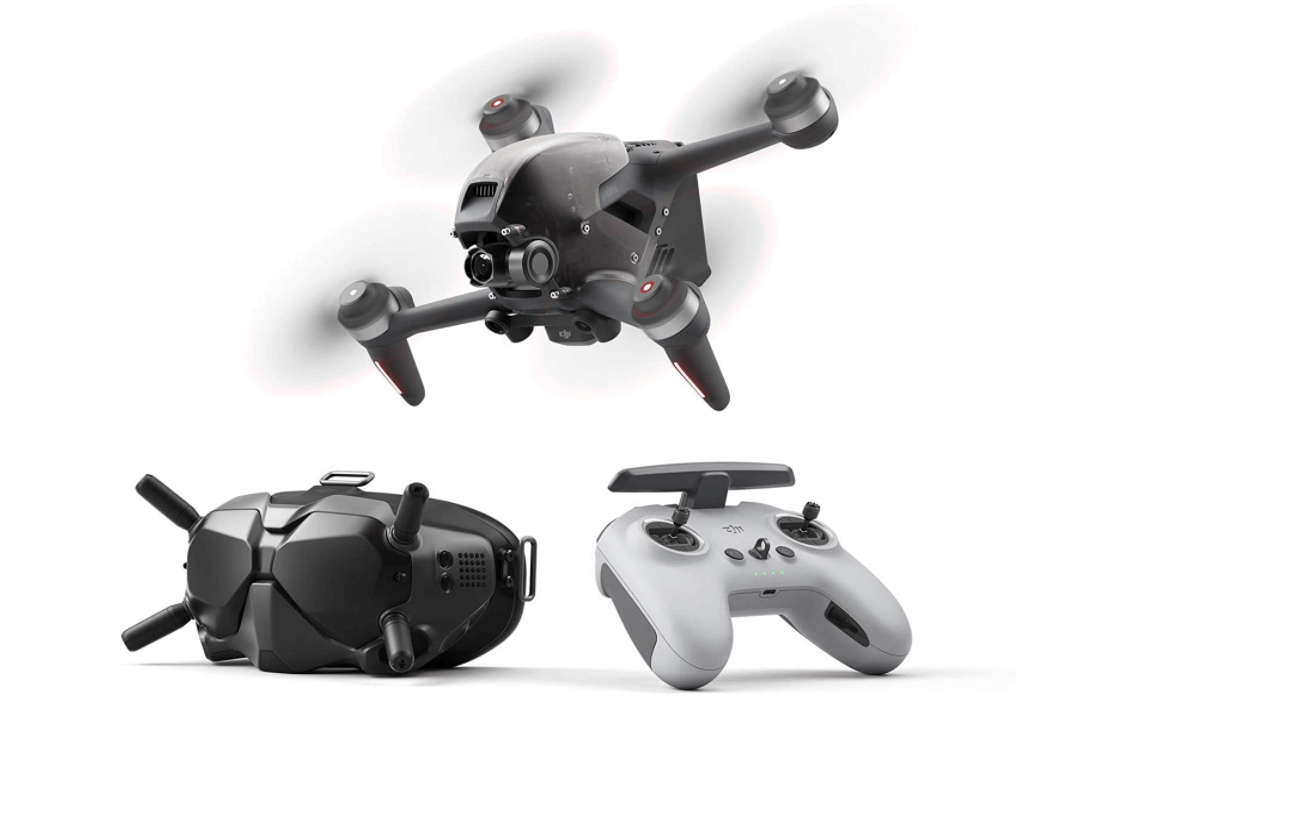 The hefty battery of this drone greatly contributes to its weight. The battery is one of the major selling points of this drone, as it lasts for a long time. With a full charge, you can enjoy a flight time of up to 20 minutes. The DJI's intelligent battery also discharges a couple of days of being inactive to avoid swelling and maximize its lifespan.

 
DJI FPV Drone Flying Mode
This drone has three different flying modes – M, S, and N. M is for manual, S is for sports, and N is for normal. If you have flown any drone from DJI in the past few years, then N would feel familiar. This drone does a lot of work to interpret your controls to provide you with a very smooth flying experience. The N mode is the perfect mode for simple landing and takeoff. It is also great for flying close around obstacles.

 
The controller has a large switch in front of it that makes it easy for you to switch the mode of the drone. The S mode is great for attaining speed and flexibility while in the air. You can get the drone in the air with the N mode and then switch to the S mode for speed and flexibility.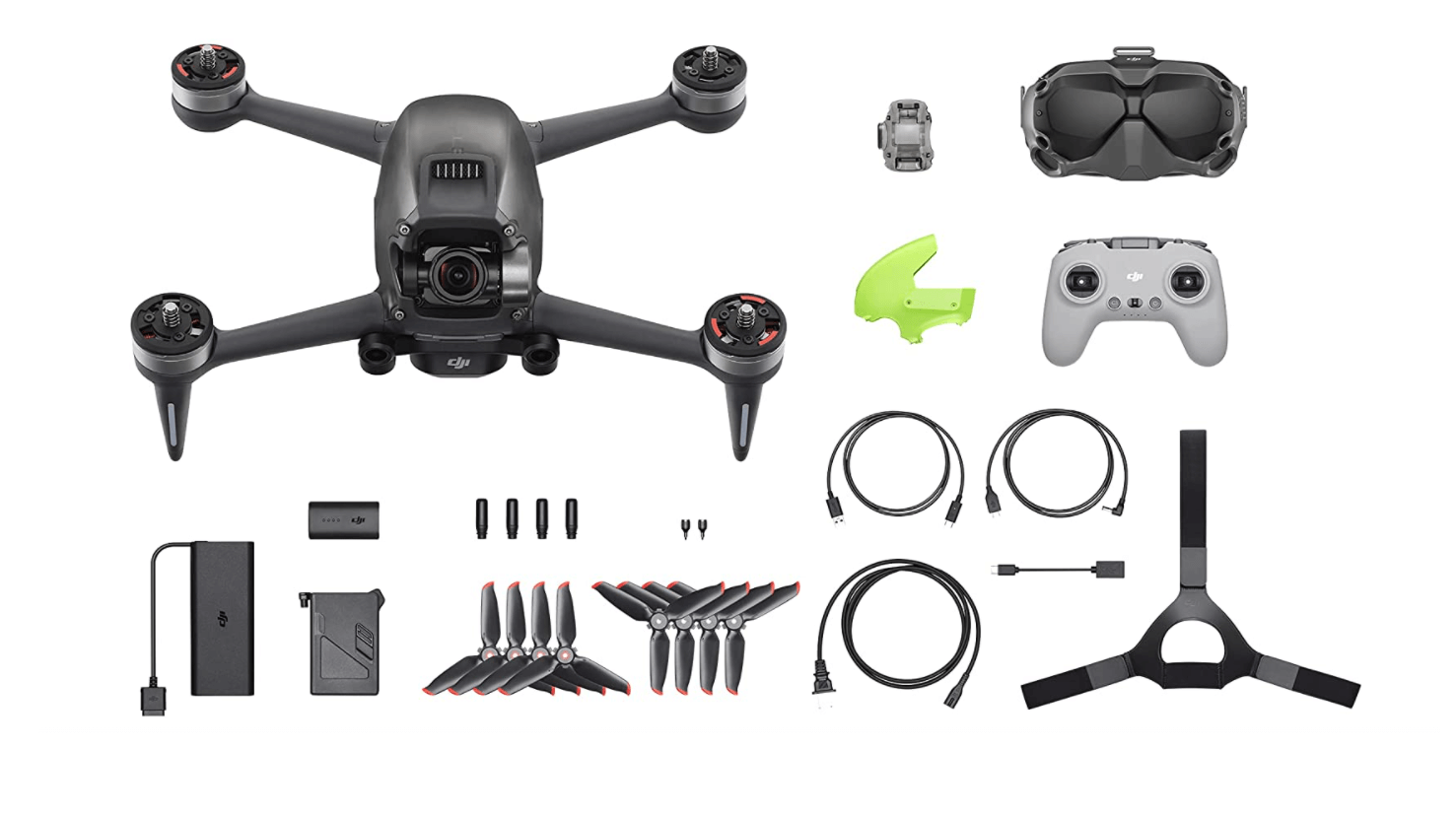 You can also switch to the M mode while in the air. In the Normal mode, the drone does most of the control work for you. Whereas, in the Manual mode, the flying mode is different. In this mode, you will be in charge of most of the control, as the drone will do less work for you.

 
With the manual mode, you will have more flexibility with the drone. However, this would make the drone a bit difficult to control. This mode is best for professionals. If you want the full speed of this drone, then you would need to be in manual mode.

 
FPV Drone Goggles
The FPV drone UK comes with the complete FPV drone kit. The Goggles are included in the FPV drone kit, and they are indeed awesome. The goggles are very good, and they provide an amazing first-person view. They provide a great and super-duper fun way to enjoy yourself.

 
The Goggles provide an immersive flight experience. It also provides super-wide 150 degrees FOV, ensuring you have a real-time, super smooth view of your flight. The googles are what give you the first-person view.

 
Advanced Safety Features
Since the device would be flying around obstacles and through different types of environments, DJI added some advanced safety features to the drone. DJI integrated downward and forward obstacle sensing, Smart Return to Home, auxiliary button light, and Low Battery Return to Home to ensure the device flies safely in different environments. Even when you are flying at high speed, these advanced safety features are there to protect the drone, ensuring nothing happens to your investment.

 
Intuitive Motion Controller
The DJI FPV drone comes with an intuitive motion controller. The DJI motion controller is there to take your flight experience to a completely new level. It allows you to manoeuvre the drone with the natural motions of your hand. This makes the drone very easy to control, which is why it is great for both beginners and professionals.

 
The controller has limited buttons to deal with, and this takes away the complexity of learning how to fly the FPV drone. One of the most notable buttons on the controller is the one-click stop button. While flying, pressing the button will cause the drone to stop and hover stably in just a couple of seconds.

 
RockSteady EIS Technology
Another amazing feature of this drone is its RockSteady EIS technology. This RockSteady stabilization feature is there to help you take super steady and smooth shots. Regardless of how dynamic your manoeuvres are, this technology will help to make your footage super smooth.

 
Final Thoughts
The DJI FPV drone does not come cheap, but it is one of the first-person view drones on the market today. This drone provides great value for money, and it is easy to use, making it a great option for both newcomers and professionals. It also comes with many great features to provide you with a super smooth flight experience, which is why it is the number one choice of many.