Any desktop computer comes with a mouse, but many laptop users buy an external mouse when they're gaming or working on something that requires a fair degree of accuracy. The thing is, trackpads are slowly starting to replace standard mice, as people have discovered that they can provide far more value in everyday use.
The trackpad is a pointing device featuring a tactile sensor, a specialized surface that can translate the motion and position of a user's fingers to a relative position on the operating system that makes output to the screen.
Comfort is one of the most essential benefits that draw a lot of people in since there is no need to move your entire arm to move the cursor like you would with standard mice.
Trackpads now support interesting features that can make everyone's lives easier, such as multi-touch gestures, customizable shortcuts, and haptic feedback. Whether you're looking for affordability or you might be used to work on touchscreens, a trackpad can be a great investment. We'll be listing some of the best trackpads that will make your life easier.
1. Apple Magic Trackpad 2
The Best Trackpad On The Market For iOS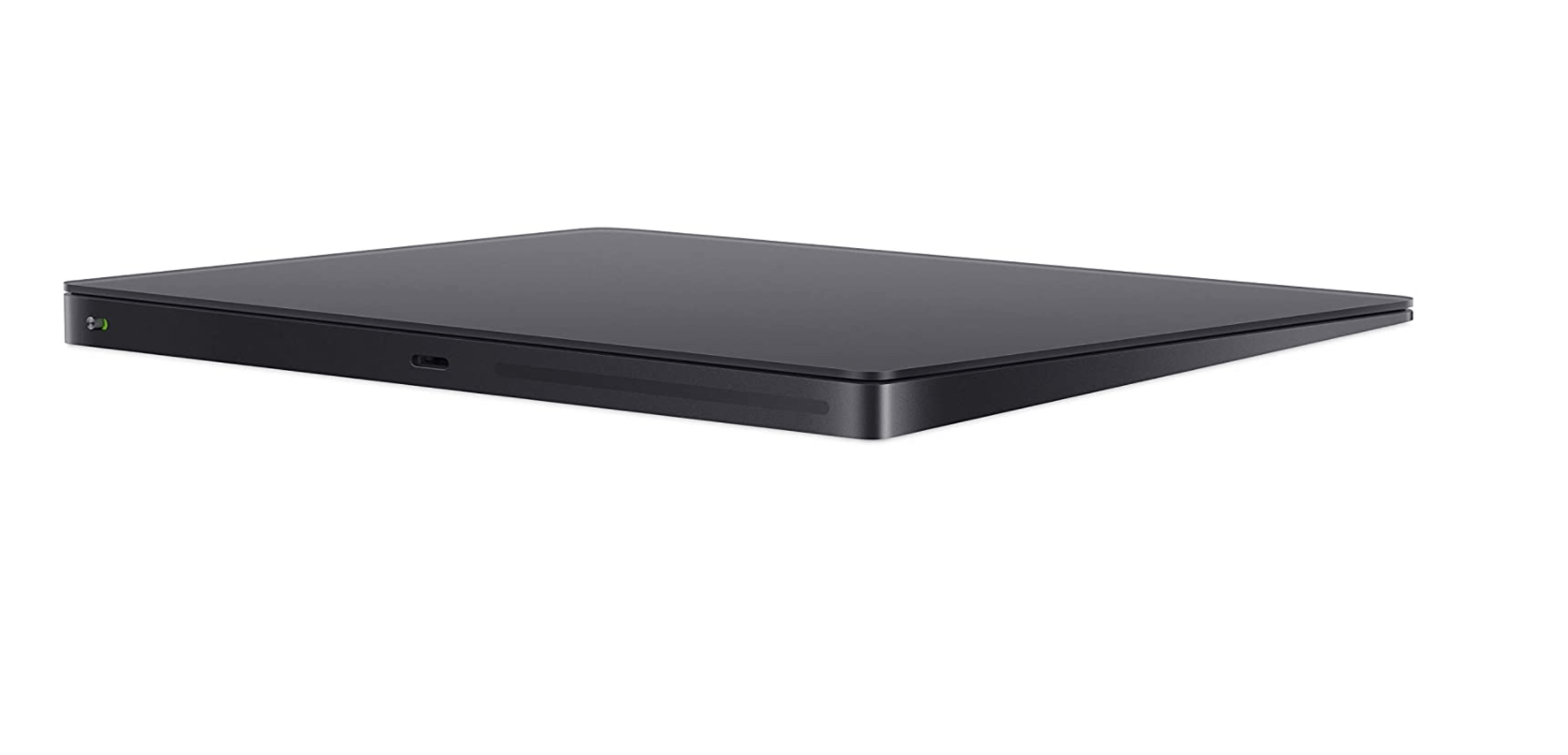 Pros: 
Minimalistic design.

Larger touch area than its predecessor.

User-friendly setup process. 

Internal rechargeable battery.

Comes with a lighting charger. 
Cons:
It requires Bluetooth 4.0 to work.

Just like any Apple product, it's expensive. 
Aside from a myriad of unique features, the
Apple Magic Trackpad 2
is one of the few trackpads that authentically support macOS. From a design perspective, it differs from the original
Apple Magic Trackpad
in height
 and
surface material, giving your hands a more natural position. It also differs a little from the
iPad pro keyboard's trackpad
as it's much more seamless and bigger which allows a better chance for navigation. Naturally, all the MacBook touch gestures can be performed on the
Magic Trackpad 2
, in addition to featuring Force Touch, which allows you to distinctively apply pressure to perform varying tasks.
You can simply connect it via Bluetooth without having to worry about cluttering up your workspace with wires, and there is a Lightning port that is used to recharge it. Even though it can be recharged quite fast, you won't really need to charge it more than once per month thanks to the battery's unique optimization. By utilizing 4 force sensors, the accuracy of the Force Touch is impeccable. There is no need to install any drivers or special software as it pairs automatically with your Mac. The two major downsides are the lack of support for Windows computers and a price tag of around £100.
2. Seenda Multi-Touch
The Best Customizable Touchpad with Hot Keys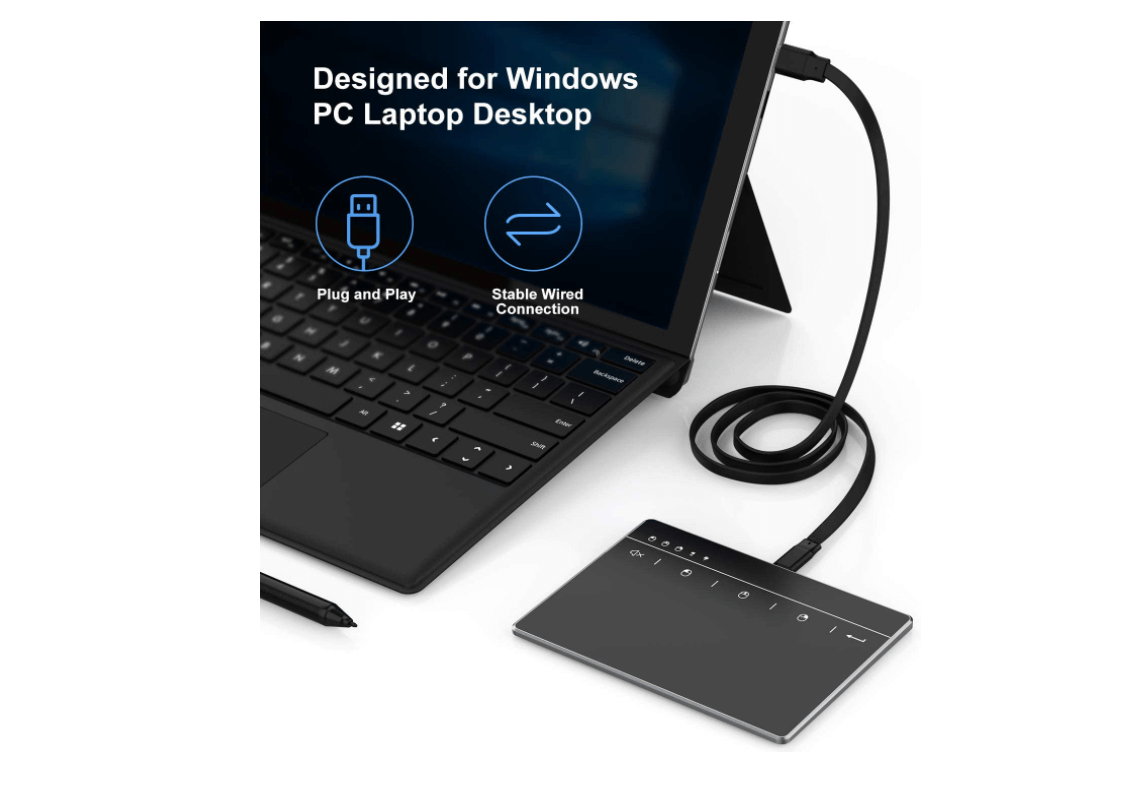 Pros:
The Seenda trackpad has uniquely intuitive multi-touch navigation.

It has five hotkeys.

The design is ultra-slim and sleek.

It pairs well with windows 10 and supports its high-precision settings.

Stable USB connection.
Cons:
It's not the most suitable option for gaming.
For a while, trackpad users have been complaining about the lack of trackpads that integrate customizable hotkeys. The Seenda Multi-Touch trackpad is a godsend for those who like to multitask while enjoying the comfort of trackpads. It allows you to customize up to 5 hotkeys that you can use to access programs and adjust computer settings. Seenda's build is pretty sleek with only 4mm of thickness and a glossy finish that can add elegance to any desk it's placed on. It's a plug-and-play trackpad, which means you don't have to worry about installing anything before using it, and comes compatible with both Windows 7 and 10 right out of the box. Unfortunately, it doesn't support a wireless connection like Apple's Trackpad. Its price of £54.88 makes it a very budget-friendly trackpad that delivers exactly what it promises.
3. Logitech Wireless Rechargeable Touchpad
The Best Customizable Trackpad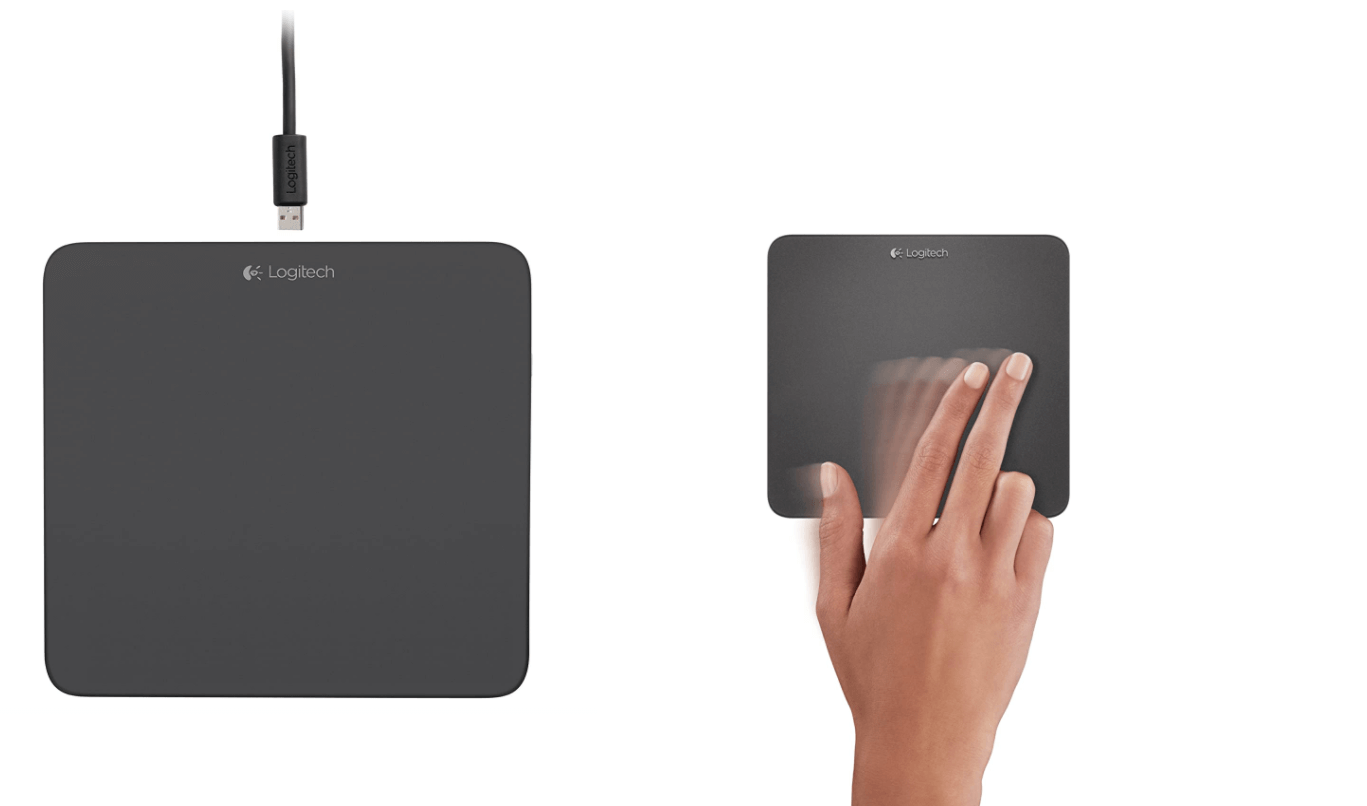 Pros:
Convenient multi-touch surface. 

Responsive tracking system. 

Customizable gestures.

Sleek design.
Cons:
It's more on the pricey side.
Logitech Wireless Rechargeable Touchpad is definitely the equivalent of the
Magic Trackpad
for windows. It's an elegant 5.25 by 5.1 inches matte black square that is almost completely flat and hosts a rechargeable battery. Unlike a lot of wireless trackpads on the market, Logitech chooses to go with a USB receiver instead of a Bluetooth connection as they believe it's more responsive and fluid. It may be a bit inconvenient for those who are low on USB ports. You can install Logitech's SetPoint software if you're looking to dive deeper into customization, but the pad will do well without it as well. The performance of multi-touch gestures and single-point navigation is considered one of the best amongst Windows-based trackpads, and it even supports Windows 8 gestures like sliding from the edge to access charms bar or application menu, in addition to 4-finger swipes to maximize and minimize running screens. While Logitech's touch can work on a Mac computer, it only supports very basic functions without any multi-touch gestures. The biggest drawback is definitely the price, with a price tag of £200.
4. Jelly Comb Trackpad Mouse
The Best Trackpad for Windows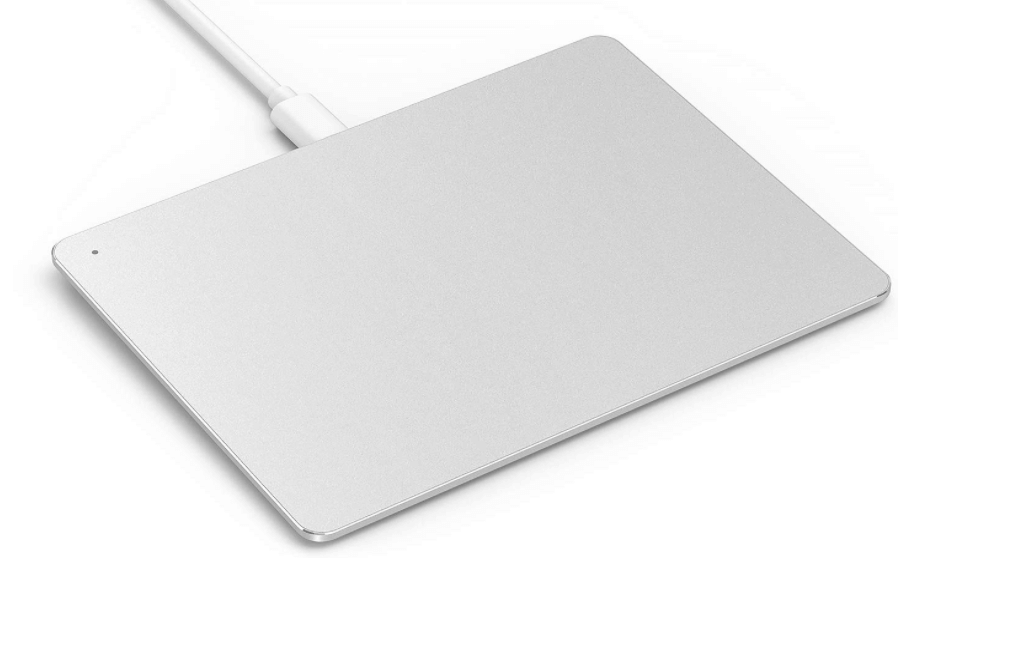 Pros:
Practical large 6-inch touch surface.

Controls have high precision.

Slim and sleek design.

It doesn't require any additional drivers.
Cons:
Some buttons may be smaller than others and what's expected. 
Jelly Comb is known for its innovative releases; from vertical mouses, folding keyboards, to one of the best trackpads for windows. The trackpad is inspired by the best of Apple's ideas. Even though it might not be as sophisticated as the Magic Pad, it still managed to impress Windows users with its multi-touch capabilities and support to Windows gestures. However, the pad still lacks Bluetooth connectivity which might affect its practicality. While this might deduct points from its rating, but it is still considered a great alternative to the conventional mouse. Just like the features' part, Jelly Comb also borrowed a few tips from the Magic Pad's design such as a smooth, seamless design with a glazed surface that feels effortless to manipulate. The Jelly Comb trackpad scored 3.6 stars out of 5 and retails for around £60.
5. Perixx Peripad 504
Best Compatible Touchpad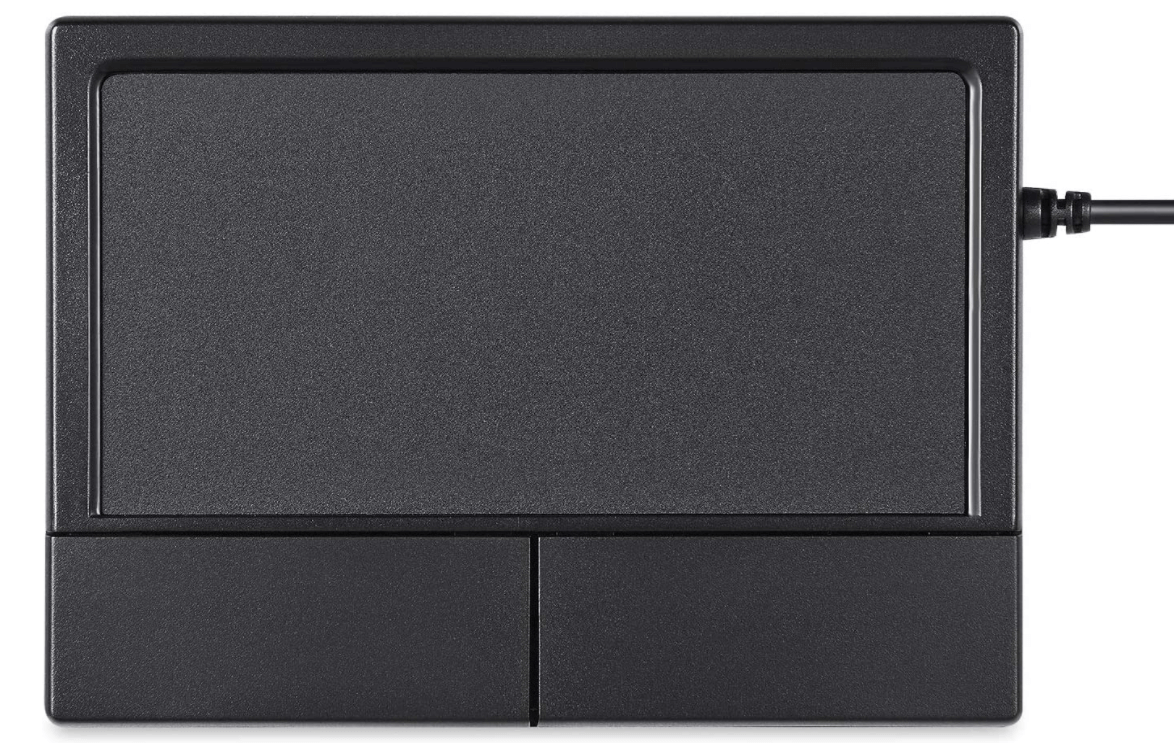 Pros:
User-friendly and easy to use.

Different multi-touch gestures for increased practicality.

Compatible with different old Windows versions such as Vista, XP, and Windows 10.

High mobility due to the compact design.
Cons:
Thicker design than most trackpad options. 
The Perixx Peripad comes in two different sizes depending on your needs. However, for better navigation, a bigger size is always recommended. The 105 x 55mm size retails for £21.99 and offers plenty of space for navigation and scrolling without any hassle. Unlike the majority of options mentioned here, this trackpad features two physical buttons just like organic laptop pads for right and left clicks. The buttons are extremely responsive and tactile just like the touchpad. If you prioritize aesthetics, then this isn't the right pad for you because Perixx put function first. It might not be an attractive device to place at your desk, but it's definitely practical and durable. However, this didn't stop users from giving it a well-earned 4-star rating.
6. Dell TP713 Wireless Touchpad
Best Value for Money Touchpad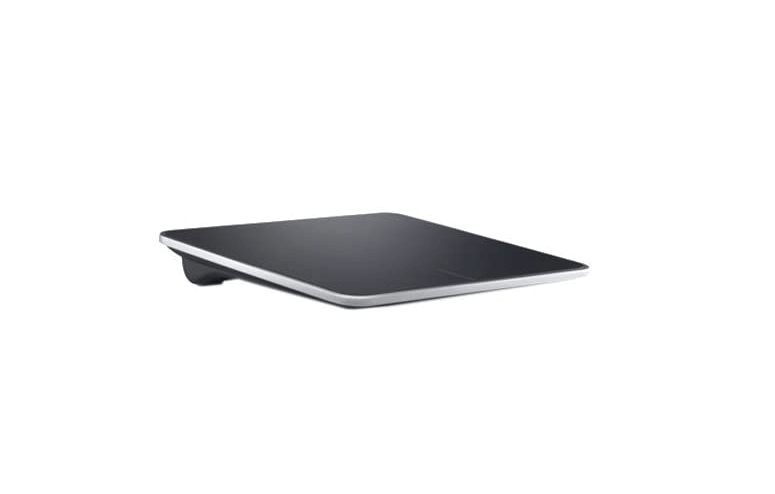 Pros:
Ease of use and manipulation.

Prevents wrist pains.

Perfect quality for the price of 66 pounds.

 High resistance to physical damage.
Cons:
The touchpad might be hard to use for left-handed people.

The nano USB might not be suitable for everyone.
If you want to gain more control over your laptop with a practical, affordable touchpad, then look further than the Dell TP713 Wireless Touchpad. This is one of the best trackpads for people who don't prefer using mouses. It also comes in handy for computers that don't support touch. With the edge-to-edge swipe, you are free to use up to 4 fingers at the same time without any hassle. The touchpad has a nano USB receiver and flawless wireless connectivity.
The smooth seamless surface makes scrolling, swiping, tapping, and even drawing an extremely easy task. You have the option to pair it with a non-touch display for interactivity or adding it to your touch screen as a multi-touch alternative. It retails for less than 70 pounds and well-liked among users with a rating of 3.5 out of 5 stars. 
Conclusion
Not a lot of people are ready to switch their old mice with trackpads, but once they give it a shot, they'll notice how convenient it can be, but only if they pick the right trackpad. Before you settle on something, make sure it's compatible with your operating system, ergonomics, and budget. Once you find the perfect trackpad, you'll wonder why you didn't make this switch a while ago.