A wireless mouse is necessary if you wish to compete with the best gamers out there. The best wireless mouse fits both your claw and palm grips to bring you the utmost comfort and usability when gaming with your friends. Luckily, there are impeccable options for everyone, from affordable to wallet-bruising.
Whether you're a seasoned gamer who wants to top the competition, a beginner, or even left-handed with fewer pointer options, we have what you're looking for. We've tested hundreds of wireless mouse models to come up with this list and give you a brief comparison between the top specifications and capabilities that today's wireless mice can offer. So without further adieu, here are the best wireless gaming mice you can get your hands on.
1. Logitech G502 Lightspeed Wireless
Specs:
DPI: 16,000
Sensor: Optical HERO 16K
Battery: 40+ hours rechargeable
Interface: USB
Buttons: 11
Ergonomic: Right-handed
Weight: 4 oz (114 g)
Price: £82.38
The G502 Lightspeed outperforms the previous Logitech model, the G502 Proteus Spectrum with a 16K DPI sensor without making any sacrifices to the Proteus features. Not just that, but this gaming beast is also paired with PowerPlay technology which allows you to use the mouse continuously without it losing charge.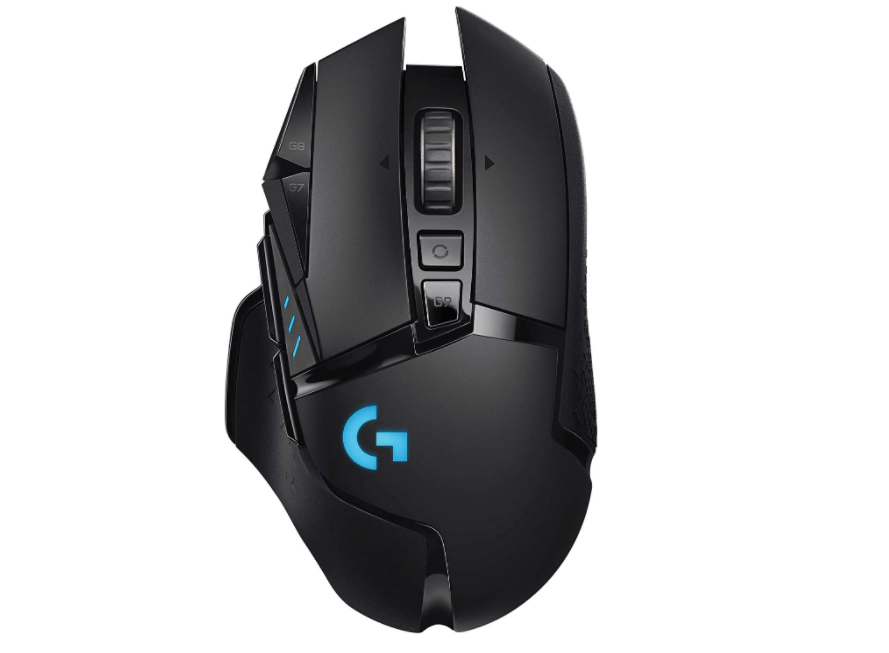 The PowerPlay mat keeps it connected and charged, however, using the mouse without the mat would still give you over 40 hours of gaming. The build and design feel extremely comfortable as well, although some would be put off by the bold, Batmobile aesthetic of the Logitech G502 Lightspeed.
Pros:
Superior design.

Weight is adjustable.

A lot of Macrons.
Cons:
The left side has too many buttons, which can lead to misclicks.

Right-handed mouse.
Rating: 5 out of 5 Stars

2. HyperX Pulsefire Haste
Specs:
DPI: 16,000
Sensor: Pixart PAW3335
Buttons: 6
Weight: 59g
Dimensions: 124 x 38 x 67mm
RGB: Yes
Price: £50
The Pulsefire Haste is a perfect representation of a honeycomb gaming mouse. It's one of the lightest and most accurate wireless mice we've tested so far. At only 59 grams, this mouse delivers super rapid movements and 100% accurate pointing. This will help you hit every target you aim at in no time while gaming.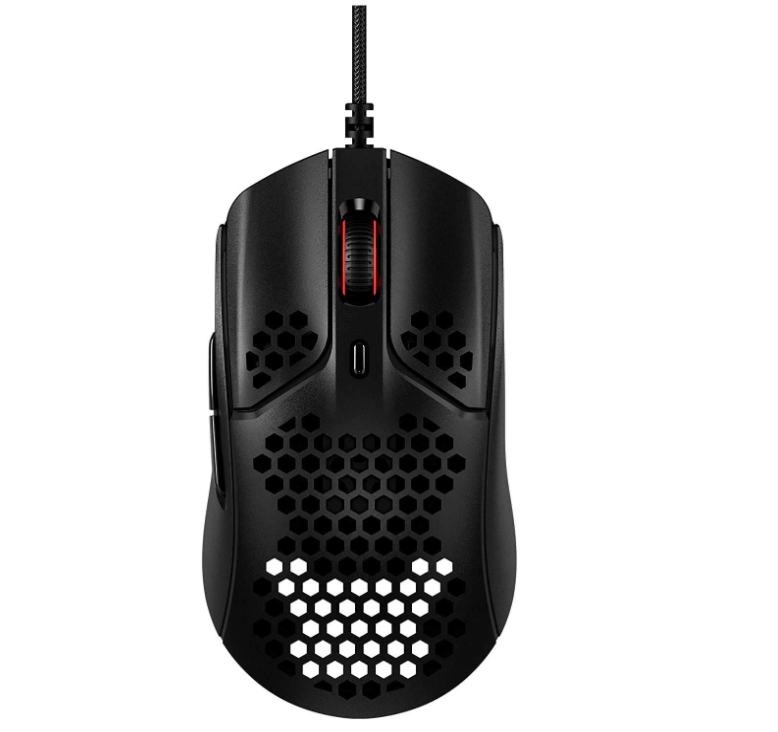 The HyperX Pulsefire Haste is small in size and relatively narrow that it's perfect for claw grippers and gamers who need as much control over their pointer as gaming mice can offer. In the final analysis, this mouse has sailed through every one of our accuracy tests making it the best wireless gaming mouse you can get.
Pros:
Very Lightweight.

High Accuracy.

Grip tape to hold the mouse in place.
Cons:
Minimal RGB to the mouse.
Rating: 4.5 out of 5 Stars
3. Razer DeathAdder V2 Pro
Specs:
DPI: 20,000
Sensor: Razer Focus+ Optical
Battery: 70 hours
Interface: USB charging
Buttons: 7
Ergonomic: Right-handed
Weight: 3.1 oz (88 g)
Price: £82.56
Razer might have misfired with the BlackWidow V2 release, but it quickly redeemed itself with a holy trinity of wireless gaming gear. One can't say they haven't learned and built on the precedent V2, especially after the DeathAdder V2 release. The DeathAdder came with the promise of huge potential and Razer definitely delivered.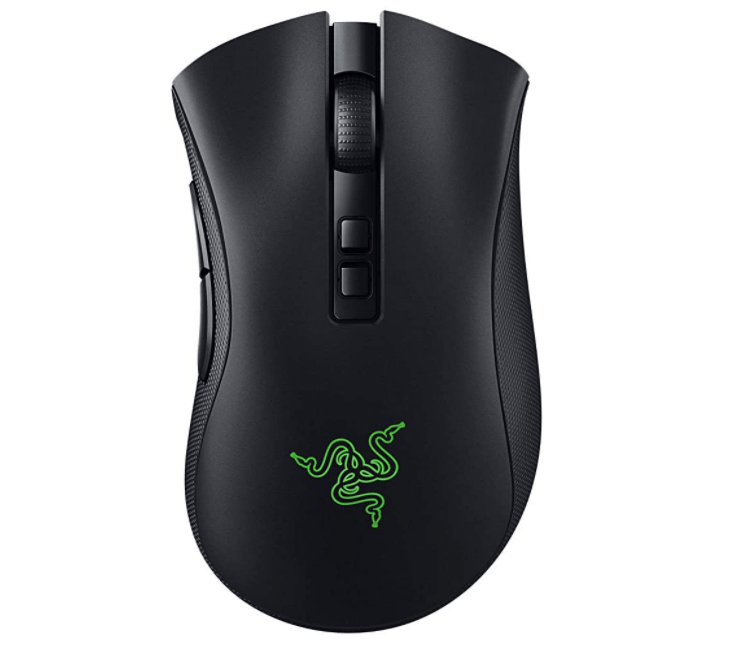 The DeathAdder V2 Pro is one of the best gaming mice ever designed for gaming and designers. Whether you want it wireless or wired, you can rest assured you will have a super smooth and comfortable gaming experience. This isn't the only merit since the stylish design of the new mouse cannot be ignored. Forget about latency with the focus+ sensor and the HyperSpeed wireless tech. Enjoy a 70-hour battery life without worrying about charging mid your favourite games.
Pros:
Sturdy Hyperspeed wireless.

Long battery life.

Maintains the same admirable DeathAdder design.
Cons:
Charges through propriety USB only.
Rating: 4 out of 5 Stars
4. SteelSeries Rival  3
Specs:
Dimensions: 120 x 58 x 22mm
Sensor: SteelSeries TrueMove Core
DPI: 8,500
Weight: 77g
Buttons: 6
RGB: Yes
Price: £35
If you are a fan of minimalism and you are on a budget, the SteelSeries' mouse is the one for you. It only weighs 77 grams so manipulating it all day long won't form a problem for your wrist especially with its 22mm-height.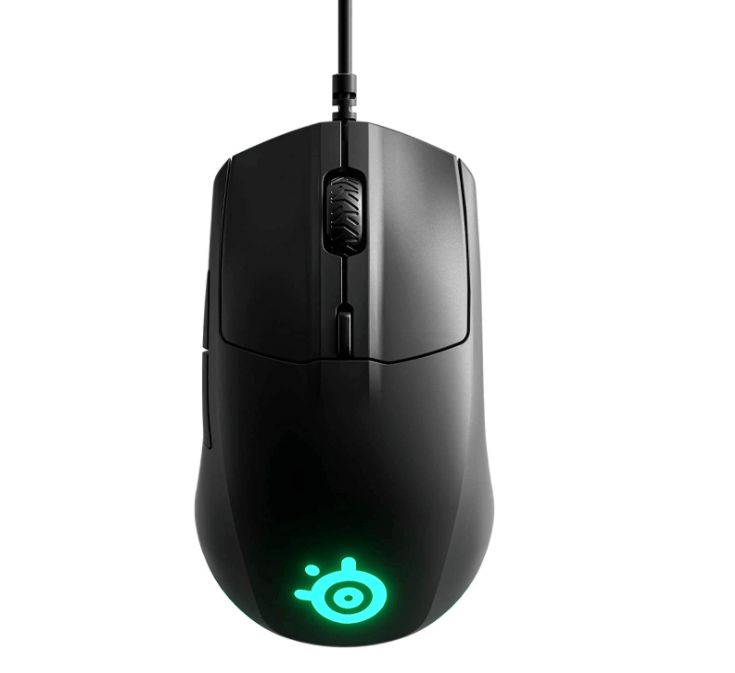 The minimalistic design comes with two side-mounted buttons and a DPI toggle just below the scroller. Yet, it has just the right amount of added flair thanks to the slim LED strip that outlines the rear end and sides of the mouse. The toggle and buttons can easily be programmed with the use of SteelSeries' excellent Engine desktop application.
Pros:
Minimalistic design.

Outlined with a LED strip.

SteelSeries Engine desktop application.
Cons:
Claw grip and small palm grips only.
Rating: 3 out of 5 Stars
5. Corsair Dark Core RGB Pro SE
Specs:
DPI: 18,000
Sensor: PAW3392
Battery: 30+ Rechargeable
Interface: Wireless, USB-C
Buttons: 8
Ergonomic: Right-Handed Palm Grip
Weight: 5 oz (142 g)
Price: £63.22
The Corsair Dark Core RGB Pro SE is considered a great future-proof mouse thanks to its Qi wireless charging compatibility, which is becoming a sought-after feature.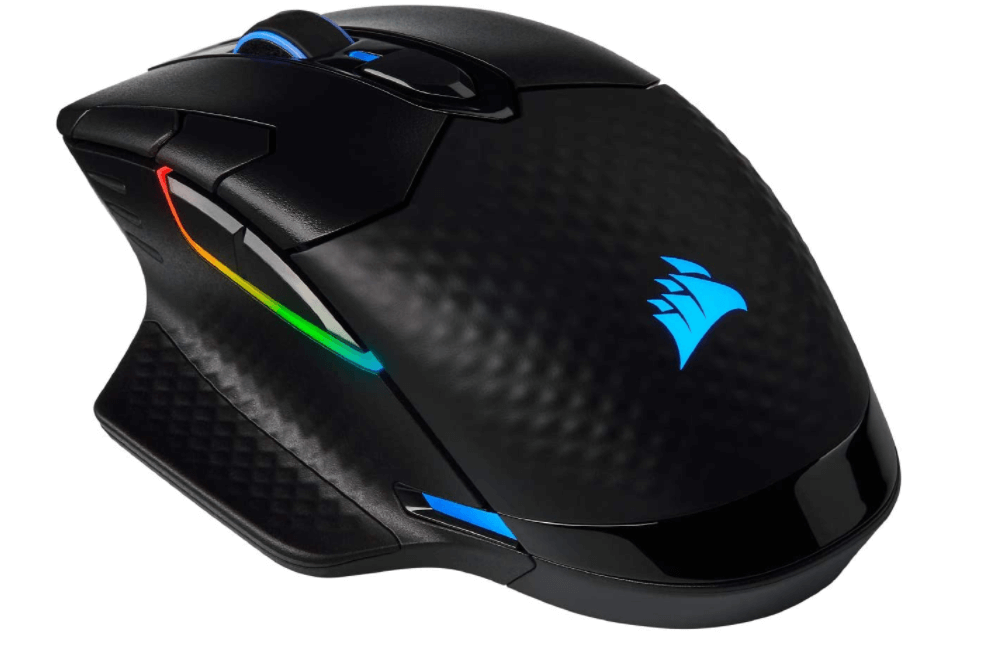 Although, those with smaller hands or claw grips may not feel as intrigued because of the mouse's textured grip that can feel a little weird. It's also a weighty mouse, so you may want to go for another option if you're trying to reduce wrist strain.
Pros:
The price is affordable.

Qi wireless charging
Cons:
The build is big in size.

Not the most suitable for palm grip style.

The grip texture feels awkward.
Rating: 2.5 out of 5 Stars
Wireless mice take your gaming experience to a completely different level. New technologies like Qi charging and PowerPlay mats make it almost irresistible to ditch USB charging interfaces that clutter your space with unnecessary cables and cords. It doesn't matter if you're right-handed, left-handed, claw gripper, or palm gripper, this list brings you the best wireless gaming mice options today's market can offer.