The Megaman 5W LED bulb is undoubtedly one of the best LED bulbs on the market today. If you are looking for a highly efficient and durable LED bulb, then this is one of the best options to consider. These days, people are running away from electric bulbs that will ramp up their electricity bills or need a replacement sooner.

 
Interestingly, the Megaman 5W LED bulb has more to offer than what other light bulbs out there have to offer. Regardless of how many you use in your home, you will not experience a significant increase in your electricity bills. It also does an impressive job of lightening up any environment, ensuring you have a super bright space at a low cost. Read on to find out more about this bulb, and whether it is the right bulb for your home or not.

 
The Megaman GU10 Reflector Dimmable LED Lamp is found in many homes today because of its great features such as economical power consumption, dimmable, durability, and more. Overall, this product 4.5 out of 5 stars. Over 130 users would give this product a similar rating.
Specification
Technology: LED
Light Color: Warm White
Beam Angle: 35
Bulb Cap Base: GU10
Colour Temperature: 2800K
Life Expectancy: 25,000 Hours
Lumens: 410
Wattage: 5W
Voltage: 240 volt
Dimmable: Yes
Weight: 0.01 KG
Pros
Highly energy efficient

Super bright

 

Highly durable with a long life expectancy

 

Consumes less energy

Ideal for use in different parts of the house

It is dimmable

 

Very cheap

Offers great value for money

It does not generate heat
Cons
You would need higher wattage for a large space
Megaman 5W LED GU10 PAR16 Review
Megaman is not a new brand when it comes to the light bulb manufacturing space. This brand has been around for some time, and it has proven itself to be one of the best manufacturers of low-energy light bulbs.

 
[caption id="attachment_10305" align="alignnone" width="698"]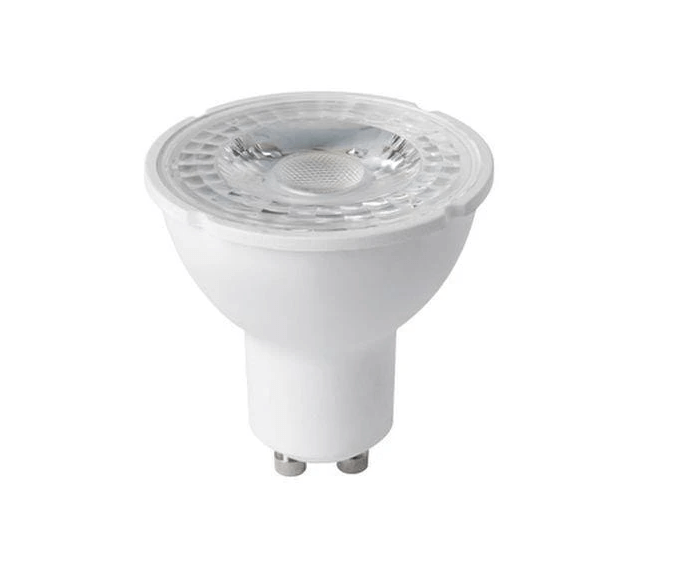 Megaman 5W LED GU10 PAR16 Warm White Dimmable - 140500[/caption]
This brand has a presence all over the world, thanks to its exceptional lamp design. Because they have a global reputation to maintain, Megaman always ensures its balls are of top quality, with the Megaman 5W GU10 Dimmable LED Lamp being one of the best out there.

 
Low Power Consumption
The power consumption of this bulb is one of its most significant aspects. This bulb is designed to help you reduce your energy consumption. The power rating of the bulb is 5 watts, which means only 5 watts of power consumption. With such low power consumption, you can replace all the old bulbs in your house with this bulb to cut down your electricity bills.

 
Super Bright
Despite consuming only 5 watts of power, this bulb is super bright. It features the latest technologies in the bulb industry, which does a great job of lightening any environment. Because of how bright it can be, this bulb is ideal for use in many places. You can use it in reception areas, kitchens, lounges, offices, meeting rooms, showrooms, and more. It is ideal for a wide range of applications, and this makes it a highly versatile LED bulb. The brightness of this bulb is up to 410 lumen, which is impressive. It is much more than what many LED bulbs out there have to offer.

 
No Heat

 
Another fascinating thing about this bulb is that it does not generate heat. It is an energy-saving bulb that does not only saves energy but also ensures that the temperature of the environment remains unchanged. With this LED bulb, you do not have to worry about the heat that light bulbs usually generate.

 
2800K Color Temperature

 
The colour temperature of this bulb is 28000K – warm white. This is why it is highly versatile and ideal for use in different environments. Interestingly, the bulb is also dimmable, and all these come for just a few bucks. Yeah, the bulb is highly affordable.

 
It helps to reduce your energy consumption, brighten your home, office, restaurant, etc., and you do not have to break a bank to purchase it.

 
Durability
This LED bulb from Megaman is also known for its durability. The life expectancy of the bulb is 25,000 hours. Interestingly, this bulb does last more than that. It also comes with a two-year warranty, and this would give you all the confidence you need when buying it.

 
Conclusion
If you are looking for the best-LED bulb that will not leave a hole in your pocket, reduce your energy consumption, and brighten your home efficiently, then you should consider the Megaman GU10 Reflector Dimmable LED bulb. This economical bulb consumes only 5 watts of power and it is ideal for use in every part of your home office, showroom, restaurant, and more.