The recent events of last year led to a huge transformation in the average working environment. Dining tables are used to accommodate nine to five shifts more often than they are used for hosting group and family dinners now. Our laptops are ultimately becoming part of our everyday life. So what can we do about our bad postures resulting from working from home?
It's hard to keep a neutral back and a lifted chin if you have your laptop placed on a table all day long. What you need to do is to elevate your computer screen a few inches above your eye level to achieve the perfect posture.
Laptop stands offer a practical solution to this problem to promote healthy posture and enhance the working-from-home experience. We tested some of the most adjustable, fixed, and highly portable options to bring you the best and most flexible range of laptop stands and risers that can suit your needs.
1. Nexstand K2 Ergonomic Laptop Stand 
Price: £25
Rating: 5 out of 5 stars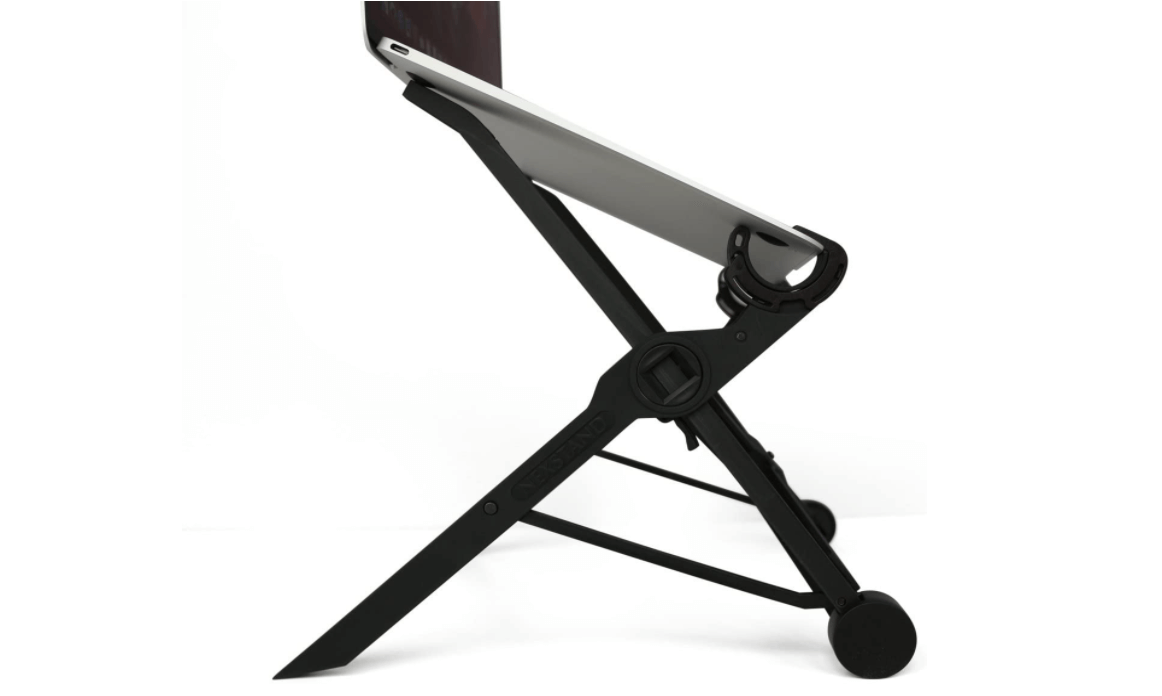 This stand goes above and beyond the call of duty with its lightweight, yet sturdy performance. At just 234 grams, the Nexstand K2 laptop stand can securely hold up to 9 kilograms of weight. It's also designed with a claw-like grip that ensures your computer is safely tucked and won't slip no matter what.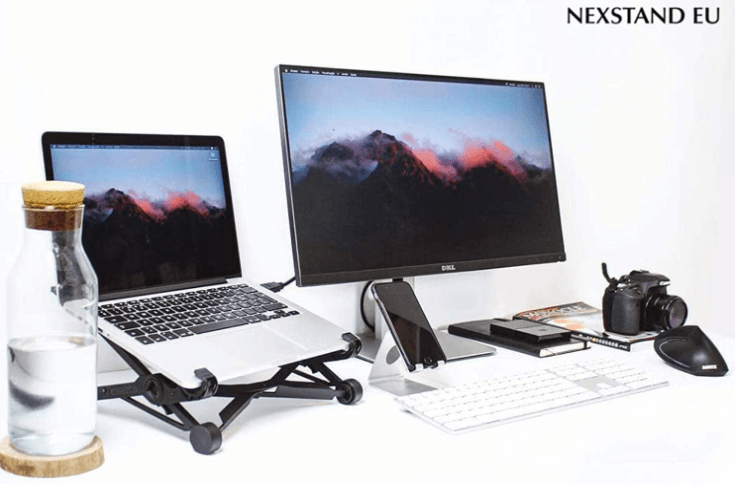 In terms of keeping a good posture while working or using your laptop, this stand comes with eight height settings that adapt freely to different eye levels for different users. That being said, portability is another attribute offered by this laptop stand as it can easily be folded away and comes with a fabric carry pouch to easily carry it around.
2. Satechi Aluminium 
Price: £21.68
Rating: 4.5 out of 5 stars
The Satechi Aluminium laptop stand is more convincing than a Macbook stand, it even comes with Apple's matching 5 colours to go with every taste. Yet, this stand can still be used with any laptop, not to mention that it weighs less than 500g and can be easily folded away when you no longer need it.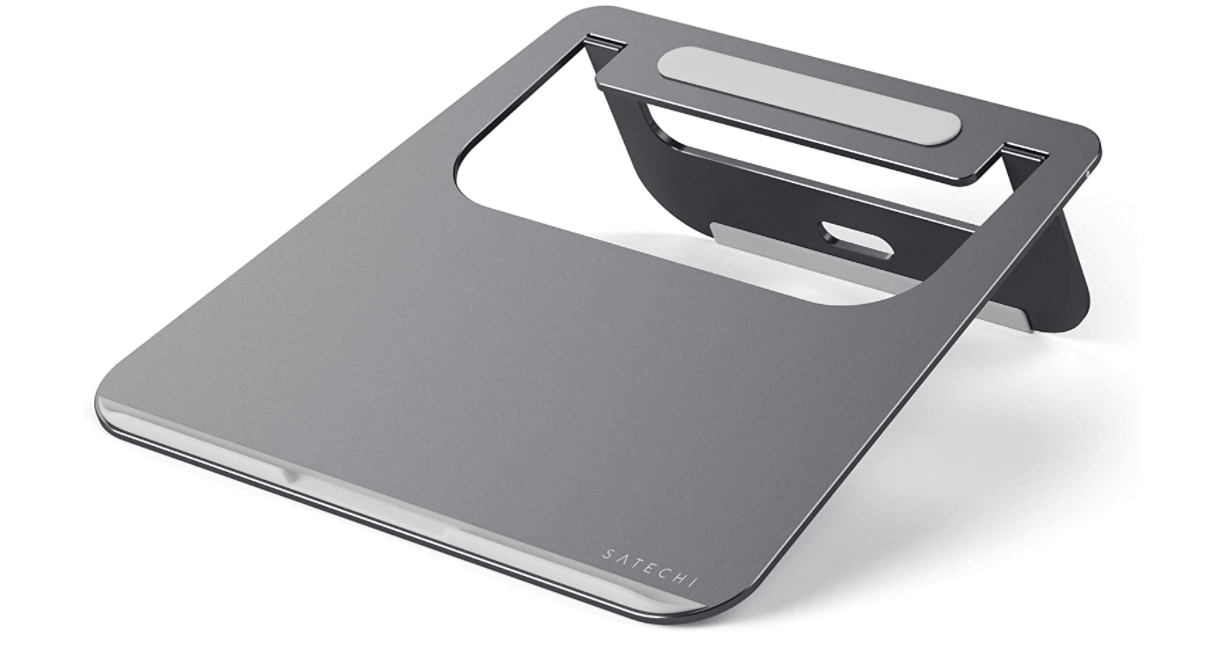 The Satechi stand comes with rubberized grips as well to protect your laptop from slippage and unfortunate events while using the stand. Overall, the design is very simple and minimalist, resembling the design and build of Apple's laptops.
3. Urmust
Price: £17.37
Rating: 4 out of 5 Stars
Urmust stands are perfect for makeshift home offices where space may be a luxury. One of the most close-packed stands at only 28.5cm long, the Urmust delivers utmost functionality in small working environments.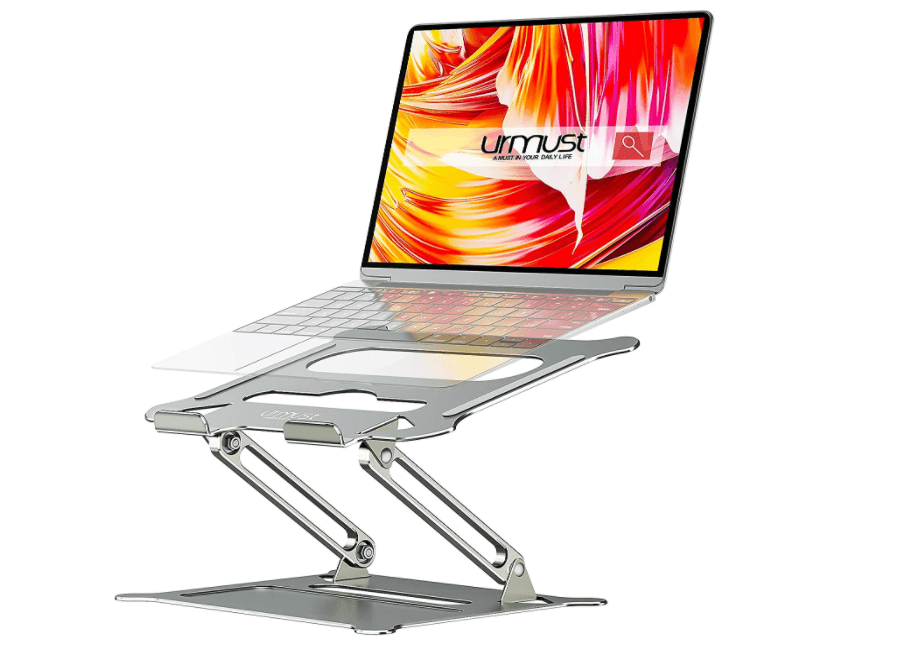 The stand comes with adjustable joints that rotate from 0 to 90 degrees, which is perfect for all types of user heights and workflows. With hefty rubber handles to keep your computer in place, this stand's aluminium design can carry laptops that are up to 4 kg of weight. The Urmust utilizes airflow outlets at the bottom of the stand holder to prevent your laptop from overheating.
4. AmazonBasics Aluminium Foldable Laptop Stand
Price: £11.96
Rating: 3.5/5
This aluminium stand is very functional for working at a dining table due to its hinged arm that can lift your laptop up by 7.5cm. This unit has a robust lightweight aluminium design with rubber grips that secure the laptop and ensure it stays in place without slipping.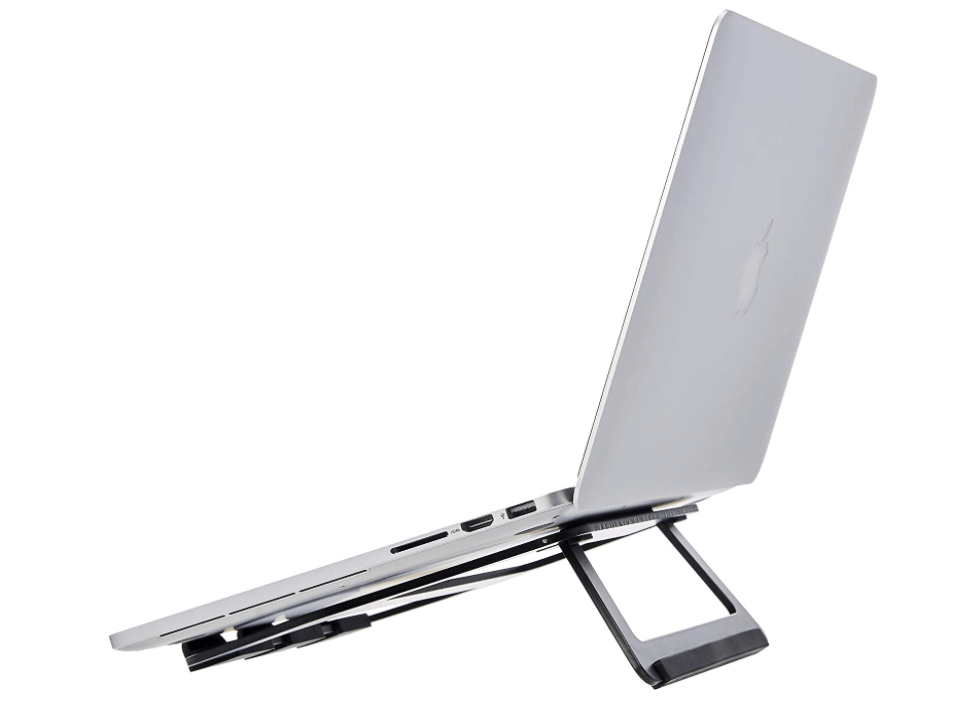 The AmazonBasics Aluminium Foldable Laptop Stand is also a cheap buy at only £12, which means it's a great option if you're trying to fix your working posture on a budget or for a temporary workplace. At the end of the day, this stand is the best adjustable laptop stand under £20.
5. Desktop Innovations Acrylic Angled Stand
Price: £55.61
Rating: 3 out of 5 Stars
Good aesthetics is the main feature of the Desktop Innovations Acrylic Angled Stand. This laptop stand comes with a minimalist glass effect with different gradient colours, making this unit the best-looking single-component laptop stand you can buy for under £60.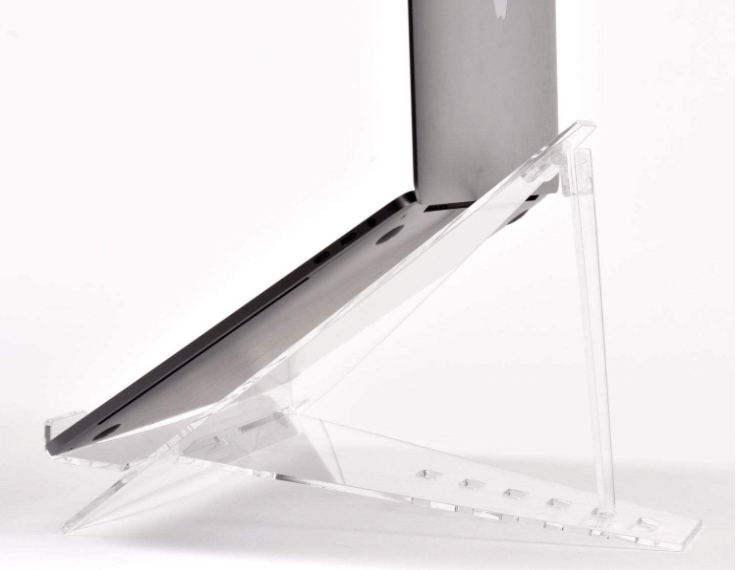 When tested on a 13in MacBooks Pro, the keyboard cables had enough space to comfortably go through the hole at the back of the stand. The stand also comes with a void space right below where you are supposed to place your device. This storage space comes in handy to declutter your work area and tidy up the cables around your PC.
However, the only downside is that the Desktop Innovations stand does not have an adjustable height. It may be perfect for users at a height of around 170 cm, but this might not be the case for other users with different heights.
6. Twelve South Curve
Price: £43.43
Rating: 2.5 out of 5 Stars
Everything about the design of Twelve South Curve stands screams out laptop ventilation. Keeping 70% of your device's base exposed while raising it 6.5in off the ground, this unit is the finest example of open-design laptop stands.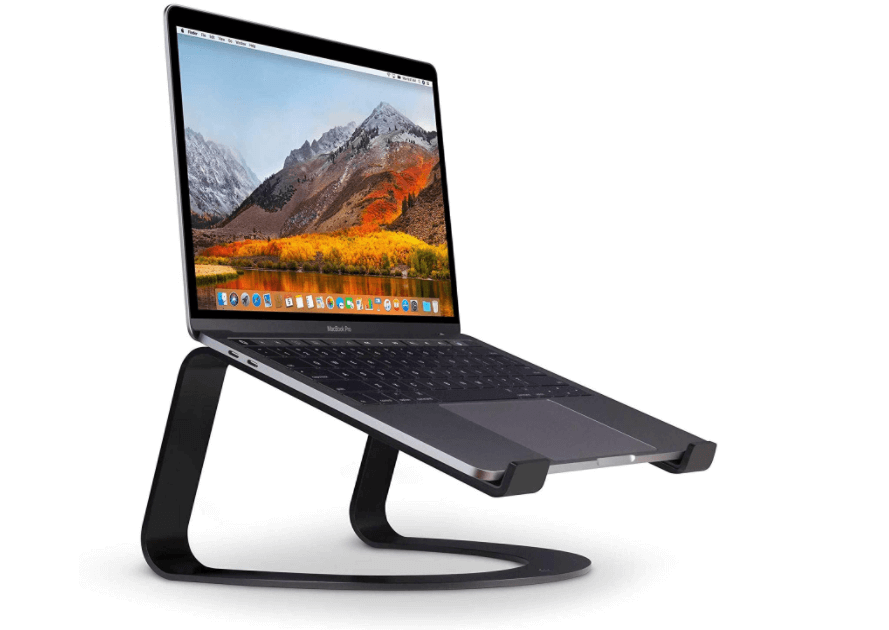 It's safe and secure for carrying laptops and comes with raised edges and silicone pads that help keep your laptop in place. The build is made from a single piece of aluminium which gives off a minimalistic aesthetic and ensures that the stand blends in with your work setup.
Laptop stands serve the greatest convenience in a time where working-from-home is no longer an exception. The current situation forces us to rely on our makeshift work setups that damage our postures and lead to back and neck strain.
The optimal solution is to opt for adjustable laptop stands that help elevate your device so that the screen can be slightly higher than your eye level. While you may not need them in an office, you will love a stand or riser that suits your working needs if you're working long hours from home. We listed a few of our top picks giving you the best laptop stands in today's market.