There's no doubt that Google's Chromebooks have been going out of their way over and over again in recent times. Chromebooks deliver the same practicality as Macbooks and Windows laptops while being a lot less demanding to use. The Google-powered devices can come in 2-in-1 touch screens or premium materials used for making tablets. They can even run Android apps just like any mobile phone device. Not to mention how some of these laptops can literally bend over backwards to shift the market attention away from Windows-powered laptops. Some of the best
Chromebooks in this list are also ideal for students and children, especially with the pandemic situation taking place and forcing everyone to study from home. These smart devices run a stripped-down Google-developed operating system called Chrome OS. Since many of us are already familiar with the system because of the Google Chrome web browser, there isn't much of a learning curve required to use these Google-powered laptops. However, you do need to know what you're spending your money on and how to spend it the best way. This is why we put together this list to guide you to the best Chromebooks you can find in the market.
1. Google Pixelbook Go
Specs:
Processor: Dual-core 1.3GHz Intel Core i5-8200Y (other options available).
RAM: 8GB (other options available).
Screen resolution: 1,920 x 1,080.
Total storage: 128GB SSD.
Weight: 1.06kg.
Price: £629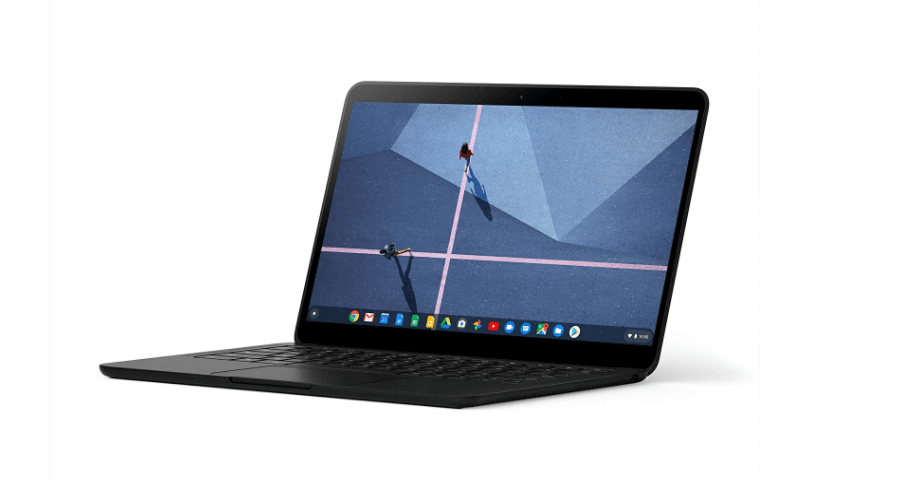 Google Pixelbook Chromebook
The Google Pixelbook Go smashed every category with its super light, super slim design, and impressive keyboard usability. Paired with phenomenal battery life and a 13.3in 1080p touchscreen, the Pixelbook Go is the best Chromebook in the market. The only thing we can complain about is the eighth-generation Core i5 which Google could have replaced with the very latest 10th generation Intel CPUs. However, the Chrome OS enhancements make this Google-powered laptop powerful enough to match Intel's 10th generation processors.
Pros
Lush design.

Enhanced battery life.

Refined component options.

1080p and 4K screen.
Cons
No hybrid functionality.

A bit pricey.
Rating: 5 Stars

2. Asus Chromebook Flip C434
Specs:
Processor: Intel Core m3/i5.
RAM: 8GB.
Screen resolution: 14-inch 1080p 16:9.
Total storage: 64/128/256GB.
Size: 15.7mm thick.
Weight: 1.45kg.
Battery life: Up to 10 hours.
Price: Starting £399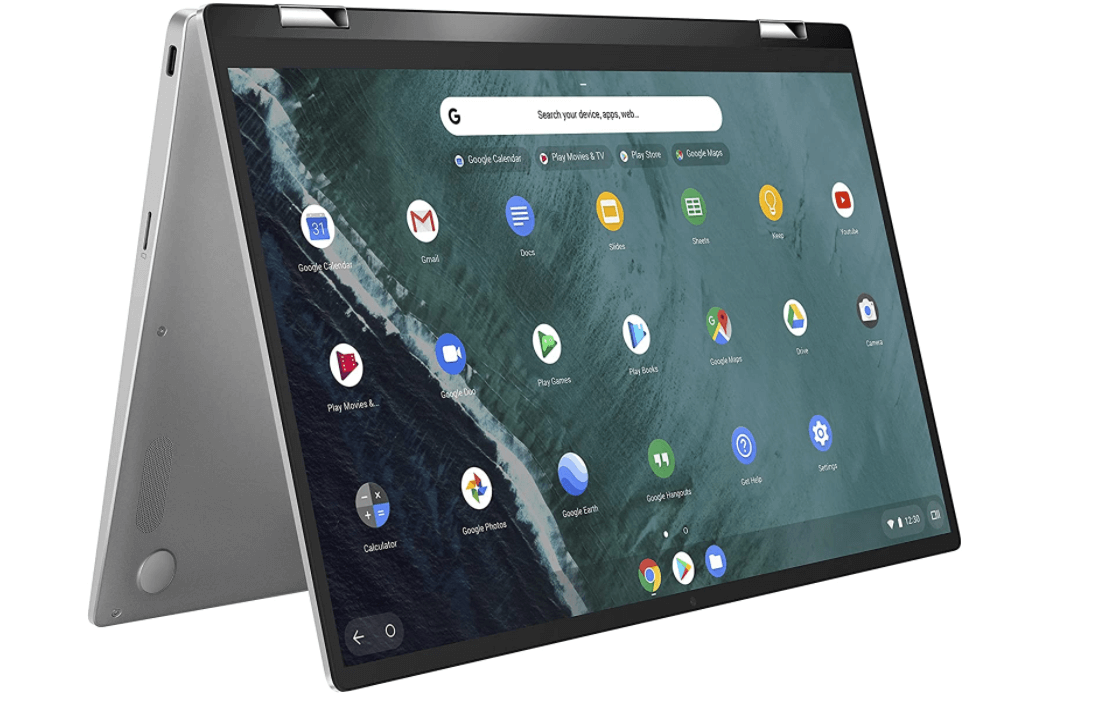 ASUS Chromebook Flip
The Asus Chromebook Flip C434 gives off the same energy and thrill of a £1,000 Windows laptop except it costs almost half the price. The exterior is made of aluminium with a 14-inch screen covered with a glass flat sheet that extends end-to-end across the screen. Notwithstanding the colourful, bright display, the one thing that stands out in the Asus Chromebook Flip C434 is its plastic trackpad that feels rather tacky compared to other pricey laptops that use textured glass trackpads.
Pros:
Adequate screen resolution.

Aluminium exterior.

Pixelbook-beating CPUs.
Cons:
Trackpad made from plastic.
Rating:  4.5 stars.
3. Acer Chromebook  314  75
Specs:
Processor: Intel Celeron N4000.
RAM: 4GB.
Screen resolution: 14in 1080p.
Total storage: 64GB SSD.
Size: 20mm thick.
Weight: 1.7kg.
Battery life: Up to 12 hours.
Price: £230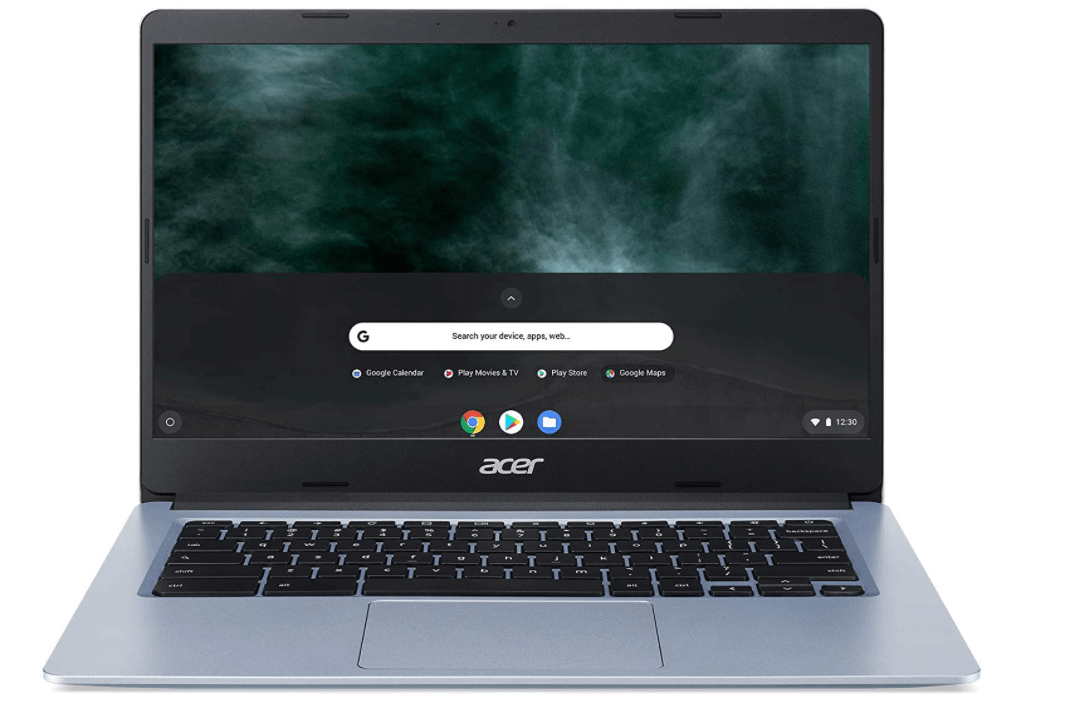 Acer Chromebook 314
Another affordable option for Chromebooks is the Acer Chromebook 314. This laptop comes with a 14in Full HD touchscreen, an Intel Celeron N4000 CPU, and a memory of 4GB. While its specification is not really exorbitant, it's still considered one of the smoothest and best Chromebooks for delivering day-to-day tasks. This Acer laptop has 2 full-size USB connectors, 2 USB Type-C ports, dual-band wireless, an HD webcam, and a card reader. With an aluminium shell, this Chromebook comes with an accurate and smooth touchpad, and crisp keyboard to compete with other high-end glass-trackpad laptops in this category.
Pros:
Full HD touchscreen.

Fashionable design.

Affordable.

Long battery life.
Cons:
Not lightweight.

Limited processor power.
Rating:  4.4 stars.
4. Lenovo IdeaPad Duet Chromebook
Specs:
Processor: MediaTek P60T.
RAM: 4GB.
Screen resolution: 10.1-inch FHD.
Total storage: 64GB eMCP.
Size: 7.35mm thick.
Weight: 450g.
Battery life: Up to 10 hours.
Price: £250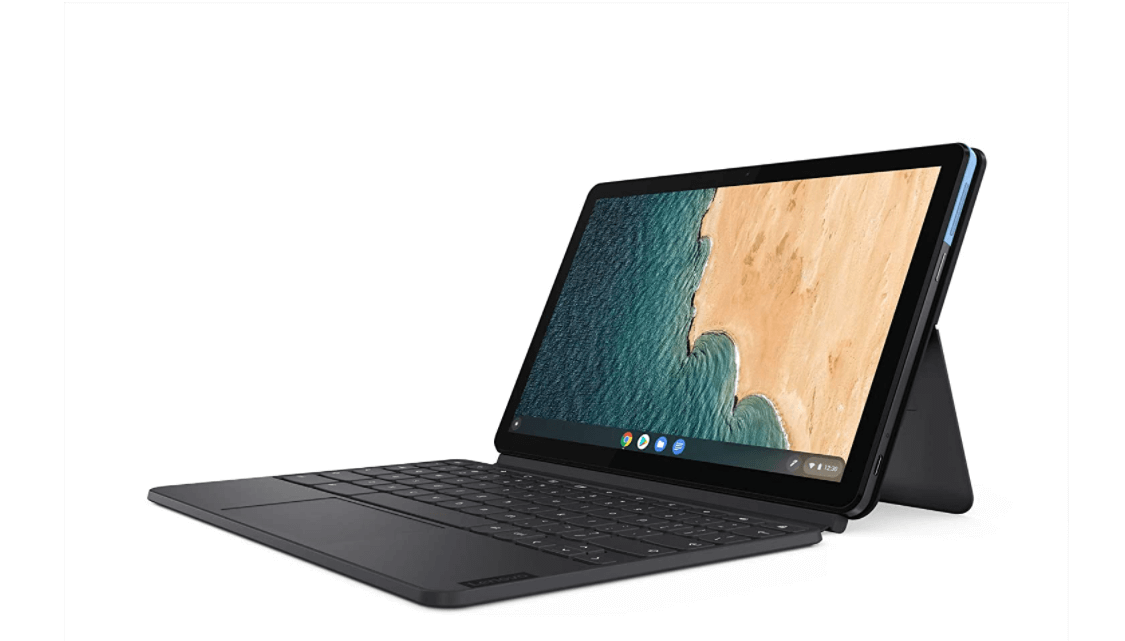 Lenovo Chromebook
The Lenovo IdeaPad Duet Chromebook is a mould-breaking laptop thanks to its unique Microsoft Surface 2-in-1 formula experience in a time where most Chromebooks only focus on functions that end up looking cheap and out of date. It looks stunning and is easy to hold, however, the speakers could have done much better considering the performance of the rest of the specifications.
Pros:
Stand and keyboard are easy to use and attach.

Impressive representation for the price.

Fast Chrome OS.
Cons:
The trackpad is not very responsive.

Not the greatest laptop speakers.
Rating: 4.2 stars.
5. Dell Chromebook 11 3100 2-in-1
Specs:
Processor: 2.6GHz Dual-core Intel Celeron N4000.
RAM: 4GB DDR4.
Screen resolution: 1,366 x 768.
Total storage: 32GB eMMc.
Weight: 1.41kg.
Price: £309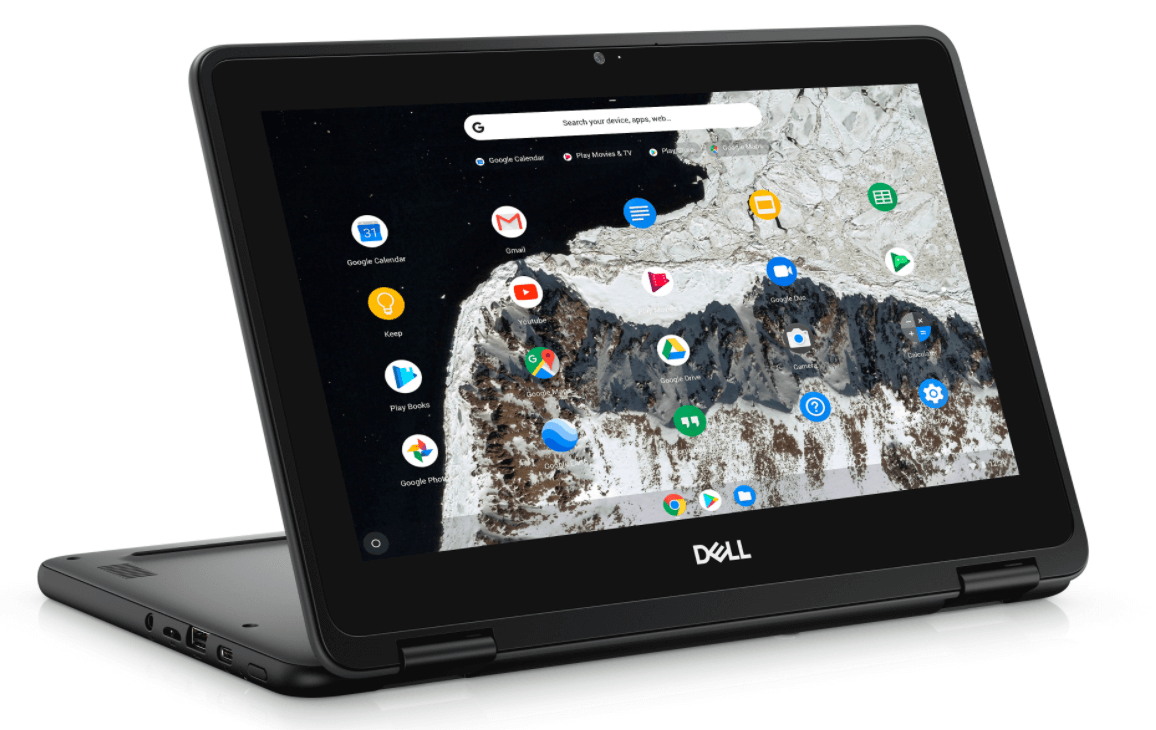 Dell Chromebook 11 3100 2-in-1
The Dell Chromebook 11 3100 2-in1 comes with a chunky design and a touch rubberised outline to provide a school theme and build for students. With schools and students in mind, this Dell laptop has a spill-proof keyboard and a display screen covered with Gorilla glass to provide a tough build for the school environment. This Chromebook can be used as a digital Flipboard, a laptop, or a tablet. Truly, one of the best Chromebooks ever.
Pros:
Great for students.

Tough build.

Spill-proof keyboard.
Cons:
Not the best display.

Chunky design.
Rating: 4 stars.
6. Acer Chromebook 714
Specs:
Processor: Quad-core Intel Core i3 or i5 (8th gen).
RAM: 4GB or 8GB DDR4.
Screen resolution: 1,920 x 1,080.
Total storage: 64GB or 128GB eMMc.
Weight:1.6kg.
Price: £475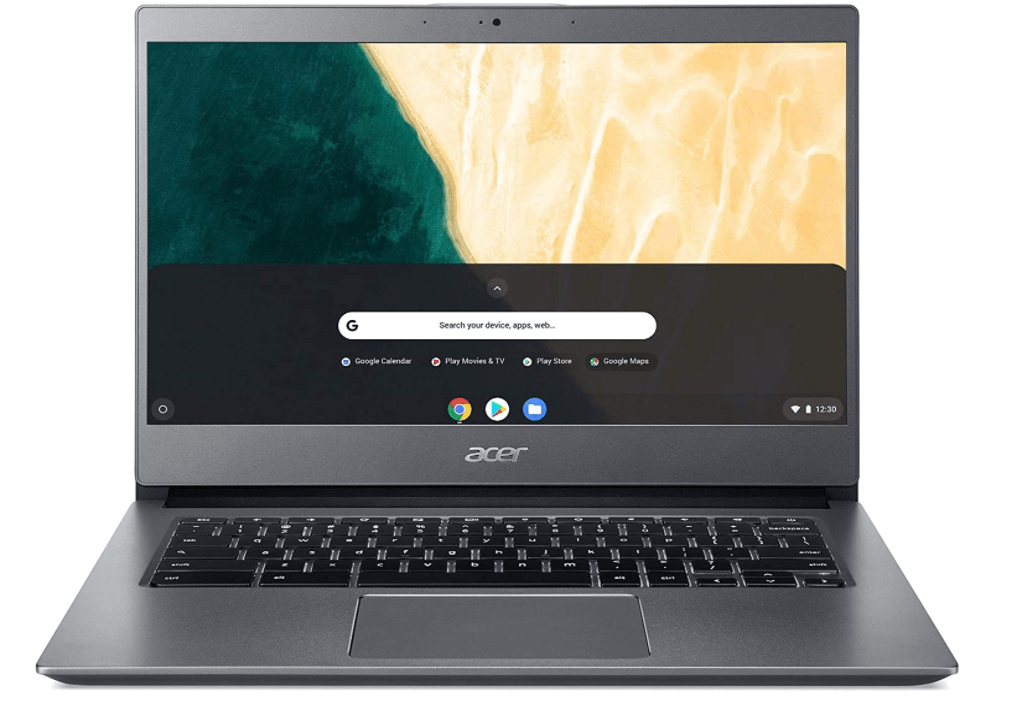 Acer Chromebook 714
The Acer Chromebook stands out for its relatively larger screen with a Full HD 1920 x 1080 IPS display that provides adequate viewing angles. This Acer Chromebook comes with 8GB or 4GB RAM and either Core i5 or Core i3 8th generation Intel processor. However, this laptop's build does feel a tad rickety and the price implies much better colour accuracy and brightness of the display.
Pros:
Large screen.

Impressive battery life.

Highly responsive.
Cons:
Display colour accuracy and brightness could be better.

Build feels a little tottering.
Rating: 3.5 stars.
Chromebooks run Chrome OS which doesn't take long for any user to learn. This is why these little Google-powered devices serve many purposes in terms of functionality and usability. Some are hogging the market attention, while some are offering 360-degree screen hinges to bend over backwards and entirely change the Chromebook experience. Hopefully, this list provides you with all the inspiration you need to make up your mind and determine which Chromebook to buy.